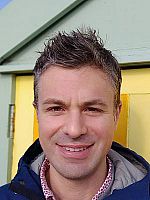 Dr
Ediz Sohoglu
Biography
I'm a cognitive neuroscientist based at the School of Psychology, University of Sussex, Brighton, UK.
My research is focussed on the psychological and neural basis of how we listen. Some of the questions I address include:
To address these questions, I conduct experiments with human volunteers, using behavioural paradigms and functional brain imaging (EEG, MEG, fMRI).
Very brief CV
2009-2012, PhD Cognitive Neuroscience, University of Cambridge, UK
2013, MRC Centenary Award, University of Cambridge, UK
2013-2017, Post-Doctoral Research Associate, University College London, UK
2017-2019, Investigator Scientist, University of Cambridge, UK