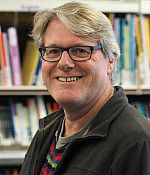 Mr
James Greenough
Biography
Mr James Greenough
Biography:
BA (Sheffield), MA (Birkbeck), Dip RSA (TEFLA), PG Cert HE, FHEA.
James is a Tutorial Fellow for the Sussex Centre for Language Studies. He is currently convenor for ELAAP & LAAP modules, the Masters Advanced Practical Teaching module, and co-convening the MA Business Communication Skills module, the Masters TEAP module and the Summer Pre-Sessional course, having previously convened on the BA Methods and Materials and Lexical Development modules along with the EAP elective module. He also teaches on the MA Principles and Practice, the Advanced Practical Teaching and Teaching English for Academic Purposes modules, as well as teaching on the English Language Teaching UG electives.
James is an experienced teacher trainer with work that includes running courses for the Cambridge ESOL DELTA and CELTA as well as the Trinity College London Certificate in TESOL. He has taught in Greece, Slovakia and Spain and worked as an oral examiner and exams supervisor for the Cambridge main suite exams, as an IELTS exams administrator and certified examiner and as a script marker for London Edexcel.
Research:
Research interests include second language acquisition and theories of learning; teacher training and development; vocabulary teaching and learning; English for academic purposes; sociocultural approaches to language learning and intercultural communication.