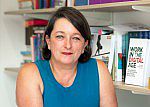 Prof
Jacqueline O'Reilly
Biography
I was the research coordinator of a large-scale EU-funded project on Youth Employment in Europe: STYLE (2014-17). The results of this are published in Youth Employment: The STYLE Handbook (Policy Press) and Youth Labor in Transition (OUP).
I completed my doctorate in Economic Sociology at Nuffield College, Oxford University in 1992 and my first degree in Politics at the University of Hull in 1986. During my doctoral research I also taught courses in British Politics at the Fondation Nationale des Sciences Politiques, in Paris (1989-90), and for Stanford University (1988).
On completing my D.Phil I worked for a year as a researcher at the University of Manchester School of Management, (UMIST) (1991-2) on a project looking at the use of IT by financial advisors in the UK.
I was appointed a lecturer in Human Resource Management and Organisational Behaviour at Royal Holloway School of Management, London University (1992-4). During this time I collaborated on the London University external BSc. (Econ.) degree in Management run from the London School of Economics. As part of this collaboration, I also taught at the Singapore School of Management (1993).
During a summer research visit to Berlin funded by a Deutscher Akademischer Austauschdienst (DAAD) grant, I was invited to apply for the post of a senior research fellow at the Wissenschaftszentrum Berlin (WZB) (Social Science Research Centre) where I remained for ten years (1994-2004). During this time I ran a number of large-scale European and international research projects examining the impact of labour market policy and employment transitions. In 2000 I was awarded a Jean Monnet Research Fellowship at the European University Institute in Florence.
I returned to the UK in 2004 to become a Reader in Sociology at the University of Sussex, and moved to take a chair at Brighton Business School in October 2008, where we established the Centre for Research on Management and Employment (CROME) in 2010. I returned to the Business School at Sussex in April 2017.
Copies of some of my research papers are available on academia.edu, research gate and on my personal website
My biography is available on LinkedIn
Role
I am Professor of Comparative Human Resource Management and the School's Equalities and Diversity Officer.
Community and Business
I have been invited to provide an advisory capacity for the following organisations:
Greek Ministry of Education Advisory Board for Professorial appointments. (2014)
Irish Research Council Inner Advisory Board Postgraduate Research Awards. (2014)
EU FP7 CUPESSE (www.cupesse.eu/) Large-scale cooperation project on Cultural Pathways to Economic Self-Sufficiency and Entrepreneurship: Family Values and Youth Unemployment in Europe; coordinated by Dr Tosun Mannheim University, Germany. Invited to the international advisory board (2014-17).
Italian National Agency for the Evaluation of Universities and Research Institutes (ANVUR), appointed advisor to the Italian Ministry of Education, University and Research on professorial appointments. (Equivalent to the UK REF) (2013-15).
EU FP7 project "Evaluating the Impact of Structural Policies on Health Inequalities and their Social Determinants, and Fostering Change (SOPHIE)", www.sophie-project.eu coordinated by Carme Borrell Agència de Salut Pública de Barcelona (ASPB), invited to the Advisory board (2013).
German Excellence Initiative of the Deutsche Forschungsgemeinschaft (DFG, German Research Foundation) and the Wissenschaftsrat (WR, German Council of Science and Humanities) – equivalent to the UK RAE/REF. Invited to be peer-review evaluator in the following areas of expertise: Framework for top-level research; recruiting top-level researchers and personal development; training and support of young academics; and the effects of research oriented teaching (51 € million investment) (2012).
Swedish Council for Working Life and Social Research - Reviewer for Marie Curie International Postdoctoral programme for the Forskningsrådet för arbetsliv och socialvetenskap (FAS) (2012)
Leeds University: Invited member of Advisory Group for Transformation Fund 'Building Sustainable Societies' (£1 million investment) (2011-12).
Fondation Nationale des Sciences Politiques, l'Observatoire sociologique du changement, (CNRS), Paris: Invited to the Professorial appointment panel (2011).
Swiss Research Council: reviewer for research grant applications. (2010).
Institute for Employment Studies: Appointed Associate Fellow (2008+).
Laboratoire d'Economie et de Sociologie du Travail (CNRS), Aix-en-Province, France: Invited as expert advisor to scientific advisory board (2007+).
Irish Research Council for Humanities and Social Sciences: reviewer of postdoctoral research awards (€2 million budget) (2006-10).
European Science Foundation: reviewer for research applications. (2006-9).
ESRC Peer Review College: reviewer for end of term research reports and new research applications (2006+).
Italian Research Council: reviewer for research applications (2005).
Belgium government research council: reviewer for research applications (2004).
Institute Arbeit und Beschäftigung, Nuremberg: Invited to be external advisor for their recruitment Commission (2003).
Centre d'Etudes de l'Emploi, CNRS, Paris: Invited to the scientific advisory board (2001-7).
Deutsche Gewerkschaftsbund - Hans Böckler Stiftung: Invited to the scientific advisory board of the project on Gender Mainstreaming (2001-2).
Rouen University, Dept. Sociology France: Appointed to the Academic Evaluation Board (1999).
Invited to join German-American Academic Council (GAAC)(1998).
Invited to be on the Programme Committee for the German Socio-Economic Panel Conference in collaboration with the Panel Survey of Income Distribution (PSID) group from Syracuse University, USA (1998).