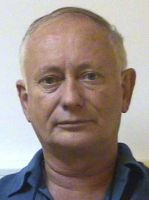 Biography
Education: 1950-1960 Birkenhead School Cheshire. 1960-1963 Cambridge University (Natural Sciences - Zoology). 1963-1968 University College London (PhD in Zoology - Neurophysiology).
Academic Career 1966-1967 Assistant Lecturer in Physiology, University College London. 1967-1969 Miller Fellow, University of California, Berkeley. 1969-1971 Asst. Professor of Physiology, UC Berkeley 1971-1977 Lecturer in Neuroniology, University of Sussex. 1977 Appointed Reader, University of Sussex. 1982-1984 Senior Visiting Fellow, Australian National University, Canberra. 1984-2005 Professor of Neurobiology University of Sussex . 2005 - present Emeritus Professor of Neurobiology University of Sussex
Awards 1982 Elected Fellow of the Royal Society of London. 1994 Frink Medal of the Zoological Society of London. 1996 ALCON Prize for vision research. 1998 Rank Prize Funds award for vision research
Degrees MA (Cambridge) PhD (London)

Land, Michael F and Nilsson, Dan-Eric (2012) Animal eyes. Oxford Animal Biology Series . Oxford University Press, Oxford. ISBN 9780199581146
Land, Michael F and Colaço Osorio, Daniel (2011) Marine optics:dark disguise. Current Biology, 21 (22). R918-920. ISSN 0960-9822
Tatler, Benjamin W, Hayhoe, Mary M, Land, Michael F and Ballard, Dana H (2011) Eye guidance in natural scenes: reinterpreting salience. Journal of Vision, 11(5) (5). pp. 1-23.
Tatler, Benjamin W and Land, Michael F (2011) Vision and the representation of the surroundings in spatial memory. Philosophical Transactions B: Biological Sciences, 366. pp. 596-610. ISSN 1471-2970
Land, Michael F (2011) Fairground rides and spatial updating. Perception, 39 (12). pp. 1675-1677. ISSN 0301-0066
Land, Michael F and Tatler, Benjamin W (2009) Looking and Acting: Vision and Eye Movements in Natural Behaviour. Oxford University Press. ISBN 978-0-19-857094-3
Land, Michael F (2009) Vision, eye movements, and natural behaviour. Visual Neuroscience, 26 (1). pp. 51-62. ISSN 0952-5238
Land, Michael F, Horwood, Julia, Lim, Matthew L M and Li, Daiqin (2007) Optics of the ultraviolet reflecting scales of a jumping spider. Proceedings B: Biological Sciences, 274. pp. 1583-1589. ISSN 0962-8452
Lim, Matthew L M, Land, Michael F and Li, Daiqin (2007) Sex-specific UV & fluorescence signals in jumping spiders. Science, 315 (581). p. 481. ISSN 0036-8075