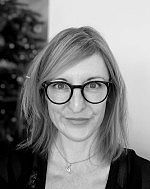 Dr
Joanna Pawlik
Post:
Lecturer in Art History (Art History)
Location:
ARTS A A167
Email:
J.Pawlik@sussex.ac.uk

Telephone numbers
Internal:
7945
UK:
01273 877945
International:
+44 1273 877945

Research expertise:

20th and 21st Century Literature and Art

,

20th Century Visual Culture

,

American Modernism

,

American Studies

,

American Visual Art

,

archival research methods

,

Avant-Gardism

,

Cultural and Critical Theory

,

Gender And Sexuality Studies

,

interdisciplinary research

,

Protest

,

Surrealist Literature and Art

,

Transnational American studies

download vCarddownload vCard to your mobile
Biography
Joanna Pawlik completed her DPhil in American Studies at the University of Sussex in 2008. From 2008 to 2011 she taught in the Department of Art History and Visual Studies at the University of Manchester, collaborating with the AHRC Centre for the Study of Surrealism and its Legacies and contributing to its three-year project Surrealism and Queer Sexualities in particular. She received a Leverhulme Early Career Fellowship in 2011 for the project Remade in America: Transnational Surrealism 1938-74. The resulting monograph will be published by University of California Press in 2020.
She co-edits the online journal Papers of Surrealism and is co-director of the research caucus SAVAnT (School of American Visual Art and Text) that seeks to promote doctoral study on American visual material within CHASE and to foster dialogues between scholars working on American art in departments of Art History and American Studies. The Doctoral School will launch in Autumn 2017 with a programme of events and training opportunities for students. Information about the Doctoral School can be found here and details about its launch, 'Chasing America', (Courtauld, 9th December 2017) here
I am keen to supervise students working on postwar American art and visual culture; avant-gardism, dada and surrealism in particular; feminist and queer approaches to art history and visual culture; transnationalism; art and protest; little magazines; region and regionalism.