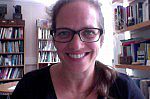 Prof
Kate Lacey
Biography
I am Professor of Media History and Theory in the School of Media, Film and Music where I am also the Director of Doctoral Studies, and Convenor of the MA in Media and Cultural Studies.
I teach a range of modules on media history and theory across both the MA and BA programmes, as well as offering MA and PhD supervision.
I have published widely (see publications list), including two monographs, the most recent being Listening Publics: The Politics and Experience of Listening in the Media Age (Polity: 2013)
My teaching and research reflect my interests in History, Politics and Communications. My first degree was in European Studies (German and Politics) at Queen Mary College, University of London, spending a year abroad at the Freie Universitaet Berlin. I did my PhD in German History at Liverpool, under the supervision of Prof. Eve Rosenhaft, on the history of women's radio in Germany during the Weimar Republic and Third Reich, again studying for a year in Berlin, at the Technische Universitaet.
This research was published as Feminine Frequencies: Gender, German Radio and the Public Sphere, 1923-1945 (University of Michigan Press, 1996). Its argument about the constitutive role of gender in the development of broadcasting continues to resonate widely in the fields of radio studies and German cultural history. It addressed the role of the media in times of political transition and offered a historically grounded critique of public sphere theory.
I have worked at Sussex since 1992, teaching media at first in the School of European Studies, then in the School of Social Sciences and Cultural Studies and the School of Humanities and now in the School of Media, Film and Music. I was Head of Media from 2005-2012.
Recent conference papers & keynotes:
2018 'Up in the Air: Where is Radio Studies Now?' Keynote at the Transnational Radio Forum, Monash University at Prato, Italy, July
2018 'Slow Radio and the Ethics of Care' Paper at the Transnational Radio Forum, Monash University at Prato, Italy, July
2018 'Media Archaeology and the Politics of Listening' Keynote at Tuned City: Sound, Space, Context Ancient Messene, Greece, June
2018 'At the Receiving End: Postioning Radio Listeners in the Third Reich.' Invited paper for Audiences of Nazism: Media Effects and Responses, 1923-1945. The Weizsäcker Conference, European Studies Center, St Antony's College, University of Oxford, May
2017 'Echo Chambers and Cultures of Listening'. Invited paper for Cultural Populism Then and Now: The Work of Jim McGuigan.' City University, London, December.
2017 'Radio's Venacular Modernism.' Keynote at 'Sound Cultures in the Modern Age' Queen Mary University of London, September.
2017 'The Intricate Intimacies of Women's Radio.' Invited paper for Gender & Transnational Broadcasting, Bournemouth University, July.
2016 'Listening Publics: Media, Modernity and Citizenship.' Professorial Inaugural Lecture, University of Sussex, November.
2016 Panellist on 'Sound Art-Music' at the Royal College of Art, November.
2016 'Radio and Border-crossing' at The Radio Conference: Transnational Encounters, University of Utrecht, July.
2015 'The Wall of Words: Radio and the Construction of the Berlin Wall, August 1961.' Invited presentation at BBC Monitoring and the Cold War, Imperial War Museum, October.

2015 'Auditory Capital and the Mediatisation of Listening' Invited speaker/respondent at Sound Studies: Art, Politics, Experience at CRASSH (Centre for Arts, Social Sciences and Humanities), University of Cambridge, July.
2014 'Overpowering Passivity: Mediatized Listening in Perspective'. Invited paper presented to the Graduate Workshop of the School of Communication, University of Michigan, Ann Arbor, USA, December
2014 'Listening: A Keyword Overlooked'. The Raymond Williams Annual Lecture Brighton Metropole, November
2014 'Listening and the Media: Variations on a Theme'. Invited paper presented to the Research Seminar of the Department of Music, University of Edinburgh, October
2014 Respondent at Capturing Aesthetics in Everyday Life: Towards a Historiography of Cultural Sensibility in Divided Germany, 1949-1990 symposium, Kings College London, June
2014 'Auditing Radio Histories'. Invited lecture to international symposium on Writing Music-Radio and Music/Radio History University of Copenhagen, June
2014 'Listening in Transnational Contexts'. Keynote at Transnational Infrastructures and Public Spheres symposium, part of the 'Transnational Radio Encounters' Network, at the European Broadcasting Union, Geneva, Switzerland, March. Funded by HERA (Humanities in the European Research Area)
2013 Discussant at Smart Publics: Mediation and public engagement with science and technology Seminar of the 'Publics Then, Now and Beyond Network, University of Sussex, November
2013 'Overpowering Passivity: Radio's Resilient Refrain'. Opening plenary speaker at Radio, the Resilient Medium ECREA Radio Research Conference, University of Sunderland at London, September
2013 'The Politics of Listening to (Anti) Social Media' Opening plenary speaker at The Radio Conference: A Transnational Forum University of Bedfordshire, July
2013 'A Fair Hearing: Listening, Gender and Citizenship in the Weimar Republic'. Invited paper at international symposium on Geschlechterordnung und Politik in der Weimarer Republik at the Fritz-Ebert Gedenkstätte, Heidelberg, July
2013 'Listening in/to Radio History: Lessons for the Digital Age'. Plenary address at What is Radio? Exploring the Past, Present and Future of Radio University of Oregon, Portland, USA, April
2012 'Listening in/to Media History'. Keynote at Addressing the Audience: European Perspectives Centre for Broadcasting History European Conference, University of Bournemouth, May
2012 'Listening with Mother: The Cultivation of Children's Radio' ECREA Conference (European Communications Research and Education Association), Istanbul, May
2011 'From Radio Listening to Television Viewing in the 1950s: Reflections on a Blindspot in Media History'. Plenary paper at the AHRC Symposium, Broadcasting in the 1950s, Grynygog, University of Wales, July
2011 'Speaking Up and Listening Out: Media technologies and the re-sounding of the public sphere'. Keynote at Electrified voices: Medial technical, Socio-historical and Cultural aspects of voice transfer at University of Konstanz, Germany, July
2010 'Paradoxes and Paradigms: Broadcasting and its Publics in the 1930s'. Keynote at 'Broadcasting in the 1930s: New Media in a Time of Crisis: A Symposium' at University of Madison, Wisconsin, USA, July
2009 'Listening Overlooked'. Keynote at The Listening Project at Macquarie University, Sydney, Australia, December
Role
Director of Doctoral Studies in the School of Media, Film and Music
Convenor of the MA in Media and Cultural Studies
Co-Convenor of the MA in Journalism and Media Studies (withDr. Sally Chen)
Convenor of the MA modules 'Media Theory and Research' and 'Media, Culture and Communication'
Convenor of 'Media, Memory and History', Level 2 module