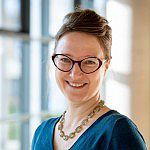 Miss
Margarita Steinberg
Biography
I studied languages (German and Italian) at the University of Sussex in 1994-6, followed by a two-year sabbatical.
I completed my undergraduate studies at the Open University, earning a composite BA degree in German / Italian / Music and Computing.
I started teaching Argentine Tango in 2013, and earnt a teaching qualification in 2016.
I got involved with the Active Learning Network on campus in 2017. ALN promotes active approaches to learning.
In June 2018, I presented a workshop on "Experiential Learning of the Embodied Kind" at the 2nd Active Learning Conference. The workshop introduced participants to an innovate learning format, based on an approach I had developed for teaching improvisation for Argentine Tango:
https://activelearningnetwork.com/2018/06/15/reflections-on-the-2nd-active-learning-conference/
My chapter 'A Tango for Learning' describing this approach in detail was included in 'Disrupting traditional pedagogy: Active Learning in Practice', published by University of Sussex Press in June 2019.
This is an open-source publication, available here:
https://www.fulcrum.org/epubs/9k41zg029#/6/16[Ch04]!/4[ch04]/2[_16034-0010_Ch04]/2/1:0
In January 2020, I joined the campus-wide team of Dignity and Respect Champions.
Research Interests
I am interested in Psychology, Education, Active Learning, Embodied Cognition, Leadership, Business and Organisational Development.
Qualifications
BA in German and Italian, University of Sussex (Year 1 + 2)
Composite BA in German, Italian, Music and Computing, The Open University
NCFE Level 3 Award in Education and Training
NCFE Level 3 Award in Counselling Skills and Theory
PG Cert in Psychosynthesis Leadership Coaching, Middlesex University
Community and Business
I founded ByHeart in 2013, which initially focused on providing tuition in Argentine Tango, and changed direction in 2018 to focus on providing Psychosynthesis Leadership Coaching to individuals and organisations.