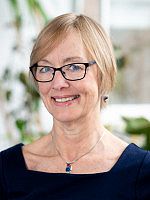 Prof
Sarah Guthrie
Biography
A Professor of Developmental Neuroscience, Sarah joined the University of Sussex in August 2016. She is a leading expert on the development of motor neurons and cranial motor nerves, including the oculomotor system which controls eye movements. Her recent work has elucidated the signalling pathways in neurons that lead to normal or abnormal nerve wiring, including the genetic causation of eye movement disorders (squint) in humans.
Before joining Sussex, Sarah worked for 25 years at Kings College London (KCL), where she began her career as a Lecturer in Neuroanatomy, researching to uncover fundamental principles of hindbrain development. After switching focus to mechanisms of axon guidance, she eventually became a professor in the world-leading Centre for Developmental Neurobiology.
Prior to that, she undertook postdoctoral studies at Scripps Clinic in San Diego, with undergraduate studies at the University of Cambridge (Newnham College) and a PhD at University College London, where she worked on the role of gap junctions in embryonic development.
During her time at King's, Sarah taught and managed a large variety of teaching programmes and new curriculum development. From 2008 she was Head of Neuroscience Education, with a remit across UG, PGT and PGR cohorts, and responsibility for the student experience. She also played a key role in Athena SWAN initiatives and the KCL Women's Network. She has particular interests in widening participation, inclusion and student career development.
Role
Professor of Developmental Neuroscience
Head of School of Life Sciences