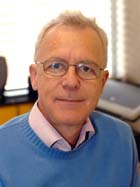 Mr
Michael Barrow
Biography
BA in Economics and Mathematical Economics from the University of Warwick and MA in Economic Policy and Planning at the University of Sussex. I worked as an economist in the government economic service (working on housing finance policy and later on ports) before becoming lecturer and then senior lecturer at the University of Sussex.
Role
Senior Lecturer in the Dept of Economics
Community and Business
I was active for many years as a school governor in Brighton and Hove and also served on some local council working groups, mainly the formula funding group concerned with funding schools in the borough.
I have also worked with local businesses doing consultancy work (e.g. a major project for American Express evaluating their role in the local economy) and also events such as (government) budget presentations to business leaders.