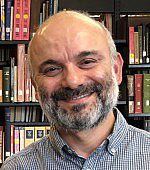 Post:
Lecturer (International Relations, Sussex Centre for Migration Research, Centre for Global Political Economy)
Other posts:
Lecturer in International Relations (School of Global Studies, International Development)
Location:
Arts B B372
Email:
K.Matin@sussex.ac.uk

Telephone numbers
Internal:
8248
UK:
01273 678248
International:
+44 1273 678248

Research expertise:
download vCarddownload vCard to your mobile
Biography
BA Development Studies (East Anglia, 2002); MSc Social Research Methods (Sussex, 2003); DPhil International Relations (Sussex, 2008)
Role
Lecturer in International Relations
Management committee member of Centre for Advanced International Theory (CAIT) http://www.sussex.ac.uk/cait
Community and Business
Interview with BBC World Service's Business programme 'Building Bridges with Iran'. 24/09/2013.
Guest analyst of BBC Persian TV for an extensive coverage of speeches by presidents Obama and Rouhani in the UNGA and the 'prospects of a thaw in US-Iranian relations'. 24/09/2013.
Interview with BBC Persian TV on 'US-Russia dispute over chemical weapons use in Syria'. 12/09/2013.
Interview with Italian online newspaper L'indro on Syrian War. 12/09/2013.
Interview with BBC Sussex UK parliament's vote against joining US military intervention in Syria. 30/08/2013.
I am interested in the international dimension of social, political and intellectual development in the context of non-western experiences of modernity. Over the past few years I have been exploring this theme in relation to the Iranian Revolution through a critical application of the concept of uneven and combined development. This has generated three articles and two book-chapters. I am currently writing a book on this topic which will be published by Routledge in 2013. More recently, I have become interested in exploring the theoretical ground for a critical dialogue between Marxist approaches overhauled by the idea of uneven and combined development and postcolonialism. My 2012 EJIR article is the first step in this project. I am also interested in international theory, historical sociology, 'Third World' revolutionary ideologies/histories, Iranian modernity, and Kurdish politics.
Areas of Research Supervision
I would be interested in supervising PhD research in any of the following broad areas: Marxist international theory and historical sociology, origins and outcomes of modernisation projects (especially in the Middle East), geopolitics of (pre)modern state-formations, (trans)formation of 'political Islams', modern Iran, and the Kurdish question.
I will teach the following courses during 2012/13:
International Relations of the Modern Middle East
Contemporary International Theory
The Middle East in Global Order
Monday 14:00-15:00
Wednesday 10:00-11:00