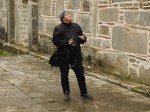 Prof
Liz James
Biography
Biography
Professor Liz James did her first degree at the University of Durham in Ancient History and Archaeology. She then moved south to the University of Birmingham for an MA in Byzantine Studies and finally to the Courtauld Institute for a doctorate in light and colour in Byzantine art. After a postdoctoral fellowship at the Barber Institute, University of Birmingham, and a British Academy Post-Doctoral Research Fellowship, she started at Sussex in 1993.
Working backwards from the present.
Liz is currently engaged on a major research project funded by the Leverhulme Trust about Byzantine mosaics. This is the culmination of an on-going series of projects about mosaics, backed by the Leverhulme Trust.
Check out the website www.sussex.ac.uk/arthistory/research/byzantinemosaics
Between 2007 and 2011, Liz organised an International Network looking at the composition of Byzantine glass mosaic tesserae - less obscure than that sounds! It brought together art historians and glass scientists to explore together what the glass of tesserae - the cubes used for making mosaics - can actually tell us about the mosaics themselves.
Before that, in 2003, Liz was awarded a one-year Leverhulme Research Fellowship to begin work on a large project about the making of Byzantine mosaics.
In 2000, a grouping of Margaret Mullett (Institute for Byzantine Studies, Queen's University, Belfast), Jim Crow (Department of Archaeology, University of Newcastle) and Liz James formed the AHRC's Centre for Byzantine Cultural History. This ran for five years and was responsible for a variety of projects.
Although the AHRC Centre for Byzantine Cultural History has ended, the three directors continue to maintain a Centre for Byzantine Cultural History. HAHP supports a Sussex Centre for Byzantine Cultural History.

Liz is currently a member of the AHRC Peer Review College.
Role
Professor of Art History.