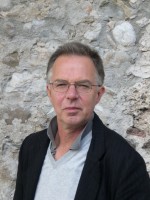 Dr
Paul Robinson
Biography
PAUL ROBINSON
Paul Robinson's recent activity as a composer for the concert stage include his 'Chamber Concerto' which won the Special Prize in the Luxembourg Sinfonietta's International Composers Competition , 'Eris' for the Tong Hasegawa Piano Duo, and 'A Night in the Palace of Reason' which won the Pierro Pèze Prize in the Taukay International Composers Competition (Italy).
He lectures at the Royal College of Music and Goldsmiths College.
HARMONIEBAND
HarmonieBand, formed in 1985, is a six-piece ensemble of multi-instrumentalists with an internationally established reputation for performing contemporary music, presenting especially composed scores to accompany silent film, and leading educational projects for young people.
HarmonieBand has made appearances at many UK film festivals and Art Centres. The ensemble has also travelled widely in Europe and including visits to the Dresden Musikfestpiele, the Giornate Del Cinema Muto in Italy and three tours of the Brabant, the last of which featured Paul Robinson's score to Cocteau's Le Sang d'un Poète. In 2007, the ensemble was invited to appear alongside the Hilliard Ensemble to present Paul Robinson's score to Carl Dreyer's 'La Passione de Jeanne D'Arc' in the Opera House in Wroclaw. The performance was recorded and broadcast by Polish television. Most recently in September 2010, HarmonieBand presented Paul Robinson's score to Alfred Hitchcock's 1926 film 'The Lodger' at the Barbican Centre and on a 5 date tour of Wales supported by the Arts Council of Wales.
For more information visit www.harmonieband.com
Role
Associate Tutor Music Film and Media