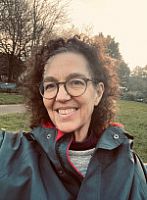 Prof
JoAnn McGregor
Biography
JoAnn is Professor of Human Geography and African Studies. She directs the Sussex Africa Centre. She came to Sussex in 2013 from University College London, where she was Reader, and prior to that was based at the University of Reading (Dept of Geography) and the University of Oxford (Refugee Studies Programme). She was educated at University of Oxford, where she secured a first class honours in geography, and at Loughborough, where shed gained her PhD. Her research interests are in the interdisciplinary fields of African studies and migration studies, and cross the boundaries between political, historical-cultural and development geography. She has a particular focus on Southern Africa. On going research projects are on mobility, citizenship and urban governance, histories of Southern African exile and on African ethnographic collections in UK museums.
Her publications include the books Violence and Memory: One Hundred Years in the Dark Forests of Matabeleland (co-authored with Jocelyn Alexander and Terence Ranger, Heinemann 2000), Crossing the Zambezi: The Politics of Landscape on a Central African Frontier (James Currey 2009); Zimbabwe's New Diaspora: Displacement and the Cultural Politics of Survival (co-edited with Ranka Primorac, Berghahn 2010); Politics, Patronage and the State in Zimbabwe (co-edited with Jocelyn Alexander and Blessing Miles-Tendi, Weaver Press 2013).
Role
Professor of Human Geography
Director, Sussex Africa Centre
Member, Sussex Centre for Migration Research
Editorial Board, Journal of Southern African Studies
Trustee, Zimbabwe Association (2005-2014)
Community and Business
Member, Collecting Panel, Brighton Museum on a Heritage Lottery Funded project on African Fashion History from 1960 (2016-7)
Academic Advisor, Heritage Lottery Funded project, community archives on aylum, Black Cultural Archives and Zimbabwe Association (2013-4)
Consultant, Foresight/Government Science Adviser, project on Conflict, Migration and the Environment (2011)
Evaluation of UK Home Office country reports on Zimbabwe for the Advisory Panel on Country Information (August 2009, October 2004 and April 2005)
Witness to Home Affairs Select Committee Inquiry into Immigration Control (February 2006)
Expert witness for solicitors representing Zimbabwean asylum seekers in the UK; expert witness in Immigration Appeals Tribunal hearing, October 2005.
Socio-economic consultant to DFID project on African Acacias (1998-9)
DFID/CEC consultant for evaluation of development projects in Tanzania run by the NGO Concern (1993)
Researcher on World Food Programme/CEC Project 'Livelihood and Integration of Mozambican Refugees in Swaziland' (1990-91)