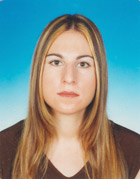 Biography
Anastasia Christou will be moving to a Readership in Sociology and will be based at the School of Law, Middlesex University, London, from 1 January 2013. Anastasia will remain an Associate member of the Sussex Centre for Migration Research, the Sussex Centre for Cultural Studies, the Centre for Gender Studies and the Centre for Colonial and Postcolonial Studies, as she will maintain research collaborations and provide supervision of her current PhD students at the University of Sussex.
Prior to her departure, Anastasia was a Senior Lecturer in Cultural Geography and Convenor of the MA in Globalisation, Ethnicity and Culture. As a Human Geographer she has expertise in social and cultural geography researching within critical perspectives and an interdisciplinary approach to social and cultural theory. She was previously Research Fellow of the three year AHRC funded project "Cultural Geographies of Counter-Diasporic Migration: The Second Generation Returns 'Home'" under the Diasporas, Migration and Identities Programme. She was Visiting Assistant Professor at the Faculty of Humanities, Department of History, International and Social Studies at the University of Aalborg and Postdoctoral Researcher at the Academy for Migration Studies in Denmark (2004) and a Visiting Research Fellow at the Wissenschaftszentrum Berlin für Sozialforschung (WZB) (Social Science Research Center Berlin) in Germany (2007). She has been a Marie Curie Research Fellow and has conducted research for the University of York, Canada, and in Athens, Greece for ELIAMEP (Hellenic Foundation for European & Foreign Policy) and ANTIGONE (Information and Documentation Centre on Racism, Ecology, Peace and Non Violence). She studied English Literature, Philosophy and Government (BA), International Relations and Comparative Politics (MA), obtained a Graduate Professional Certificate in International Law and Diplomacy at St. John's University, New York, USA, completed a DPhil in Geography at the University of Sussex and a PhD in Geography at the University of the Aegean. She has widely published on issues of migration and return migration; the second generation and ethnicity; space and place; transnationalism and identity; culture and memory; gender and feminism; home and belonging; emotion and narrativity. She is a Fellow of the Higher Education Academy.
Anastasia's doctoral students have received funding from both UK (AHRC & ESRC) and EU academic research funding bodies.
She currently co-supervises the following DPhil students:
Evangelia Sachperoglou, Migration Studies: "Female Immigration Entrepreneurship"

Cemre Erciyes, Migration Studies: "Return" Migration to the Caucasus: Adyghe-Abkhaz Diaspora(s), Homeland, Adaptation"
Recently completed DPhils:
Janine Teerling, Migration Studies: "'Return' of British-Born Greek Cypriots to Cyprus: An Ethnographic Study" (2010)

Christiana Karayianni, Media Studies: "The impact of different forms of communication on bicommunal relations in Cyprus" (2011)

Zana Vathi, Migration Studies: "The children of Albanian migrants in Europe: ethnic identity, transnational ties and pathways of integration" (2011)
Anastasia has also provided doctoral and post-doctoral mentoring to Visiting Research Fellows associated with the Sussex Centre for Migration Research.
Anastasia teaches a range of undergraduate and postgraduate courses in Geography as well as interdisciplinary teaching, particularly in the areas of cultural studies, migration studies, gender studies and European studies.
In the Autumn Term she convenes and teaches on the first year undergraduate module Study Skills in Geography and Ecology, as well as the core postgraduate module MA Globalisation and Culture and is the Programme Convenor for the MA Globalisation, Ethnicity and Culture.
She has previously also taught Cultural Geographies, Social Geography, Europe & International Migration and has been a lecture contributor to Methods and Approaches in Human Geography/Research Skills in Human Geography, the Master's Level Course- Transnational Migration and Diaspora and to the MA in Migration Studies Research Methods course. She has offered an MA Workshop on Methodology, Research Design & Ethics in Dissertation Writing and a DPhil Workshop on Doctoral Thesis Writing. She also has first year undergraduate academic advisees in BA Geography and supervises students undertaking the Geography Undergraduate Thesis on a variety of themes relating to Cultural, Social and Feminist Geographies, in addition to supervising MA and DPhil students.
In Spring/Summer Terms, Anastasia teaches two cultural studies courses (Culture Across Space and Time; Culture, Race and Ethnicity) and contributes to a Research Methods Workshop for MA Dissertations.
Student Consultation
Advice and Feedback (Office ) Hours during the Autumn Term 2012 Teaching Block 1 will be held on Fridays, 12.00-14.00.