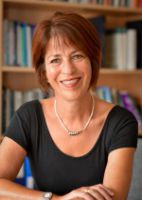 Prof
Elaine Sharland
Post:
Professor of Social Work Research (Social Work and Social Care)
Other posts:
Director of Research and Knowledge Exchange (School of Education and Social Work)
Location:
ESSEX HOUSE EH 108
Email:
E.Sharland@sussex.ac.uk

Telephone numbers
Internal:
3040
UK:
01273 873040
International:
+44 1273 873040

Research expertise:
download vCarddownload vCard to your mobile
Biography
Elaine Sharland is Professor of Social Work Research and Director of Research and Knowledge Exchange in the School of Education and Social Work. Her primary research interests are in the development of methodologies and capacity for inter- and intra- disciplinary research, the relationship between theory, evidence and research, research utilisation and knowledge exchange, and constructions of risk in professional discourses and practices.
Elaine is Co-Founder and Secretary of the European Social Work Research Association, Co-Chair of the UK JUCSWEC Research Committee and Conjoint Fellow of the School of Humanities and Social Science at the University of Newcastle, New South Wales. From 2008-10 she was Strategic Adviser for Social Work and Social Care Research to the UK Economic and Social Research Council, and from 2006 – 2012 she was Director of the Sussex Registered Provider of Knowledge Reviews for the Social Care Institute for Excellence (SCIE).
Elaine was formerly Director of the Social Work PhD and DSW programmes at Sussex, and remains an active supervisor of doctoral students on both programmes. She teaches mainly on the DSW and MSc Social Research Methods courses, with occasional contributions to others.
Current Projects
Children, young people and families using social work services in four UK cohort studies: Patterns, outcomes and change: Funded by the Nuffield Foundation (October 2013 – March 2015), this is a collaborative project with the Universities of Cardiff and Lancaster. It draws on four national cohort studies, spanning two decades, to study the patterns, outcomes and changes over time of children's, young people's and families' contact with social work services. In particular, it looks at what distinguishes the characteristics and outcomes of those who do from those who do not use social work services despite similar difficulties, and at how the use of social work and related services changes as children grow older and as policies shift.
Beyond the risk paradigm in mental health policy and practice: This co-edited book project, in collaboration with colleagues from the Universities of Tasmania, Connecticut and Kent, is one of a three volume series exploring the dominance and impact of 'the risk paradigm' in the mental health, child protection and criminal justice practice contexts respectively. All three volumes critically engage with how 'risk thinking' has come to dominate discourses and practices in the human services sector, highlighting the theoretical, policy, ethical and practice controversies that arise for practitioners in their work with 'risky' and 'at risk' populations and individuals. Each book explores ways of moving beyond the limitations of the risk paradigm within their field.
Current professional activities:
Secretary of the European Social Work Research Association

Co-Chair of Joint University Council Social Work Education Committee Research Sub-commitee

Board

member of

European Conference on Social Work Research

Member of ESRC Peer Review College

Member of NIHR School for Social Care Research Advisory Board

Conjoint Fellow,

School of Humanities and Social Science,

University of Newcastle, Australia
Role
Post: Professor of Social Work Research
Roles: Director of Research and Knowledge Exchange, School of Education and Social Work
Location: Essex House room 108
E-mail: e.sharland@sussex.ac.uk
Telephone numbers:
Internal: 3040
UK: (01273) 873040
International: +44 1273 873040