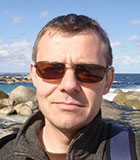 Dr
Mick Frogley
Biography
Mick graduated from Kingston University in 1993 with a BSc (Hons) in Geology.
His doctoral research, carried out at the University of Cambridge (1993-97), was primarily concerned with the multi-proxy analysis of a long (319m, three hundred and fifty thousand year-old) sedimentary sequence from the Ioannina lake basin in NW Greece.
On gaining a Research Fellowship in Earth Sciences at St John's College, Cambridge (1996-2000), his post-doctoral work continued these investigations, focusing in particular on the character of climatic variability in the Eastern Mediterranean during the last interglacial period (Marine Isotope Stage 5e).
Mick joined the University of Sussex in October 2000 as a Lecturer in Physical Geography and has since been extending the geographical range of his research by looking at Late Holocene lake sites in Peru. He became Senior Lecturer in October 2005 and received a University Teaching Award (a joint award with Dr D Kniveton) in 2008. He became a Reader in 2019.
Role
Reader in Physical Geography
Director of Recruitment & Admissions for the School of Global Studies
Course convenor for BSc Geography
Community and Business
External Examiner at University of Bournemouth for BSc Geography and BSc Environmental Science
Elected Honorary Secretary to the Quaternary Research Association 2014–2018.
Appointed to the UK National Environment Research Council (NERC) Peer Review College 2010–2013.
Elected Awards Officer to the Quaternary Research Association 2006–2010.
Elected Secretary to the Ostracod Group of the Micropalaeotological Society 2000–2003.