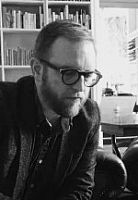 Prof
David Berry
Post:
Professor of Digital Humanities (Media and Film, Data Intensive Science Centre at the University of Sussex)
Other posts:
Professor of Social and Political Thought (Centre for Social and Political Thought)
Location:
SILVERSTONE SB 316
Email:
D.M.Berry@sussex.ac.uk
Personal homepage:
berrydm

Telephone numbers
Internal:
7557
UK:
01273 877557
International:
+44 1273 877557

Research expertise:
download vCarddownload vCard to your mobile
Biography
In my work I research the theoretical and medium-specific challenges of understanding digital and computational media, particularly algorithms, software and code. My work draws on digital humanities, critical theory, political economy, social theory, software studies, and the philosophy of technology. As Professor of Digital Humanities, I am particularly interested in how computation is being incorporated into arts and humanities and social science practice. In relation to this I am currently questioning the way in which artificial intelligence and machine-learning are articulated in relation to arts and humanities knowledges – particularly notions of augmentating, automating and informating. More particularly I am interested in how knowledge, organisation and computation are formed into a new constellation of power. My work examines how these systems are legitimated and the orders of justification around them, together with the potential of concepts such as explainability for providing immanent critique and the space for practices of critical reason.
My latest project examines the historical and philosophical genealogies of the notion of an "Idea of a University" and was funded by the British Academy. The project examines the way in which the university is now increasingly organised according to instrumental logics, mostly drawn from corporate structures, and which not only undermine the idea of a university, but begins to transform it into its opposite. That is, that in the absence of a positive conception of the university, it lapses into an R&D division for industry or into offering high school teaching as part of a mass education system. My work seeks, rather, to provide a new compass for the university and contribute towards a critical archaeology of the concepts which were fundamental in thinking about the university and reinvigorate their importance for teaching and learning, and for research as a parrhesiastic practice. This will be published as a monograph.
I am also a member of the Geneva 2020 Internation, led by Professor Bernard Stiegler. An internation is an agreement between different localities working together in order to invent and to experiment with new macro-economic models more likely to address the urgent challenges of the Anthropocene. More information is available here: https://internation.world/
I sometimes blog at Stunlaw. I welcome PhD proposals in these areas and have examined PhDs from a number of universities, including: Cambridge, Kings College, London, Goldsmiths, Warwick, Royal Holloway and Leiden.
Students can book an appointment with Professor Berry
Current research
The History and Philosophy of the University
Critical Reason under Computation
Critical Theory and Explainability
Internation: Infrasomatization, Exosomatizaton and Endosomatization
Forthcoming Publications
Selected Publications
Selected research awards, fellowships, & prizes
2019 Forschungskolleg Humanwissenschaften (Institute for Advanced Studies), Goethe University Frankfurt am Main, Visiting Fellowship,

Fellow am Forschungsverbund "Die Herausbildung normativer Ordnungen",

2019-20.
2019 ISTeC Distinguished Lecturer, Colorado State University (CSU), "History of the Concept of a University", Information Science and Technology Center (ISTeC) and the Digital Hub at Colorado State University, March 2019.
2019 Winner of "Sussex Spirit" Education Award 2019 for Teaching and Learning, University of Sussex. I was also a nominee in the "Transformative Technology" category.
2018 University of Oxford, Associate Member, Faculty of History, 2017-18
2018 Wolfson College, University of Cambridge, Visiting Fellow.
2018 University of Cambridge, Centre for Research in the Arts, Social Sciences and Humanities (CRASSH), Visiting Fellow, Easter Term, University of Cambridge.
2017 University of Warwick, Visiting Academic, Centre for Interdisciplinary Methodologies (CIM).
2017 Lincoln College, University of Oxford, Visiting Scholar and Member of the Senior Common Room.
2017 British Academy Mid-Career Fellow, British Academy (£143,000), Reassembling the University: The Idea of a University in a Digital Age.
2017 School of Advanced Study, University of London, Visiting Fellowship 2017-18.
2016 Mansfield College, University of Oxford, Visiting Fellowship 2015-16, Mansfield College, University of Oxford.
2014-17 Sussex Humanities Lab, Sussex Research Competition (£3 million), Co-Founder and Co-Director of University Research Centre (with Caroline Bassett, Tim Hitchcock, Sally Jane Norman, and Rachel Thomson). University of Sussex.
2013 Digital Humanities at Sussex, Sussex Research Networking Fund (£1400), David Berry (PI), with Caroline Bassett (Co-I), University of Sussex.
2012 University of Oslo, Yggdrasil Visiting Fellow, Digital Humanities and Software Studies, Research Council of Norway/Norges forskningsråd (104000 Kr/ £12,000), Yggdrasil fellowship - IS-MOBIL 2011-12: Digital Media: Software/Code and Social Media (PI).
2010 Media and Conflict, Norwegian MFA Grant (£105,000), Principal Investigator with Dr S. J. Hansen (PI).
Professional memberships
Member of the Society for the History of Technology (SHOT)
Member of Alliance of Digital Humanities Organizations (ADHO)
Fellow of the Royal Society of Arts (RSA)
International Communication Association (ICA)
The Media, Communication and Cultural Studies Association (MeCCSA)
European Communication Research and Education Organization (ECREA)
The British Philosophical Association (BPA)
Performing Rights Society (PRS)
Role
Professor of Digital Humanities
Member of the Faculty of Social and Political Thought
Co-Founder of the Sussex Humanities Lab (co-Director 2013-2016)