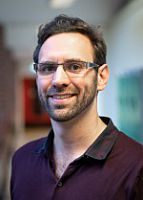 Dr
Dave Smalley
Biography
I completed my DPhil at Sussex in 2010. My thesis explored the socio-motivational contributors to bullying and victimisation in primary schools. After working in schools to gain experience, I began my training to be an Educational Psychologist in 2012 (UCL and Croydon Educational Psychology Services). In 2014 I decided to return to academia and worked as a Lecturer in both Brighton University and the Unveristy of Greenwich. In 2016 I began my career as a Lecturer in Psychology at Sussex and was promoted to Senior Lecturer in 2019.
Role
I am an Education-Focused Senior Lecturer in Psychology. A key focus of this role is to apply innovation and current pedagogy to enhance existing teaching practices. My current research interests include exploring and evaluating initiatives aimed at improving the student experience by increasing the connectedness they feel with their School of study and with each other.
I also have several administrative roles in the School of Psychology at Sussex: Deputy Director of Recruitment and Admissions, Head of Mackintosh House, First Year Retreat Coordinator and International Summer School Coordinator.