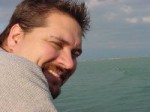 Mr
Andrew Collington
Biography

Possibly a bit of PHP zealot and probably spend more time than is healthy in front of a computer. You can find my code on my blog, my GitHub account (and Gists) or even my older free PHP classes (don't hold that code against me, though!).
I am a Zend Certified Engineer (ZCE) (one of the first 1000 people to get certified).
I was also the creator of the Amnuts talker system - http://en.wikipedia.org/wiki/Amnuts#Amnuts
Role
I am responsible for programming and maintaining back-end systems that make this site tick (or tock, depending on your point of view).
I act as lead developer and architect for projects such as Broadcast (the university-wide news and events system), the WCM (university-wide CMS), SPLASH, and more.
Community and Business
I help run BrightonPHP - a PHP-focused user group in Brighton that meets every third Monday of the month.