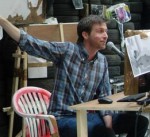 Dr
Benedict Burbridge
Biography
Dr. Ben Burbridge holds degrees in Art History from the University of Sussex (B.A. Hons., M.A.) and The Courtauld Institute of Art (Ph.D.). From 2008, he held the position of Visiting Lecturer at The Courtauld Institute, before joining the University of Sussex as a Lecturer in 2011.
Burbridge has extensive experience developing research projects with museums, galleries and arts organisations. His curated exhibitions include We Are Witnessing the Dawn of an Unknown Science (Permanent Gallery, Brighton, 2007); No Passaran! Robert Capa and the Spanish Civil War (Charleston Farmhouse Gallery, Firle, 2007); The Daily Nice Take Away (Kunsthaus, Essen, 2010); the 2012 Brighton Photo Biennial, Agents of Change: Photography and the Politics of Space; and Revelations: Experiments in Photography (Media Space at The Science Museum, London and the National Media Museum, Bradford, 2015). Burbridge's experience as a curator has led him to work on exhibitions with artists and photographers including Omer Fast, Ed Clarke, Jason Larkin, Corinne Silver, Thompson and Craighead, John 'Hoppy' Hopkins, and Jason Evans.
Burbridge is Co-Director of the University of Sussex's Centre for Photography and Visual Culture: a pioneering research centre aimed at fostering inter-disciplinary dialogues around visual culture. The Centre works closely with institutional partners such as Tate, Brighton Photo Biennial, The Science Museum and the BFI to organise research projects, talks, events and exhibitions. The Centre is also home to a new MA in Photography: History, Theory, Practice, which Burbridge has been central to designing. It is the first MA in the UK to combine the history and theory of photography with practice and curation in a genuinely interdisciplinary context. Burbridge is also the co-founder of Ph, an AHRC-funded network of more than thirty UK-based academics working with photography. Ph have worked collaboratively on projects including Either/And (in partnership with the National Media Museum, Bradford) and 'Ph Curates' (in partnership with The Photographers' Gallery, London).
Burbridge has a long-standing association with the visual arts organization Photoworks. As Co-Editor of Photoworks Annual, he was responsible for commissioning new writing by authors including Martha Rosler, Blake Stimson, Jorge Ribalta, Geoffrey Batchen and Ariella Azoulay, and showcasing work by artists including David Moore, Nina Berman, Broomberg and Charnarin, Erica Scourti and Simon Faithfull. He was also been involved with the production of artists' books, commissions, talks programmes and exhibitions.
Burbridge has written extensively on photography, politics and contemporary art, including articles, essays and interviews about leading artists and curators including Adam Broomberg and Oliver Chanarin, Thomas Ruff, Nan Goldin, Ronnie Close, Trevor Paglen, Charlotte Cotton, Mike Mandel, Anthony Luvera, Paul Shambroom and Martin Parr. He has given numerous talks and lectures at galleries, museums and universities including The Photographers' Gallery, Tate Modern, the Hayward Gallery, Sotherby's Institute, The Science Museum and the Palais de Tokyo.
Read an interview with Ben here: http://www.1000wordsmag.com/ben-burbridge/