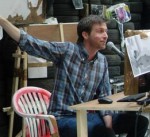 Dr
Benedict Burbridge
Biography
Dr. Ben Burbridge holds degrees in Art History from the University of Sussex (B.A. Hons., M.A.) and The Courtauld Institute of Art (Ph.D.). From 2008, he held the position of Visiting Lecturer at The Courtauld Institute, before joining the University of Sussex as a Lecturer in 2011.
Burbridge has extensive experience developing research projects with museum, galleries and arts organisations. His curated exhibitions include We Are Witnessing the Dawn of an Unknown Science (Permanent Gallery, Brighton, 2007); No Passaran! Robert Capa and the Spanish Civil War (Charleston Farmhouse Gallery, Firle, 2007); The Daily Nice Take Away (Kunsthaus, Essen, 2010); and the 2012 Brighton Photo Biennial, Agents of Change: Photography and the Politics of Space. Since 2003, he has been involved with the visual arts organization Photoworks, where he worked on the commissioning and production of a wide range of photographic projects, publications and exhibitions.
Burbridge is currently working on an exhibition examining the 'traffic' of early scientific photography, to be shown at Media Space in London's Science Museum in spring 2015. He is the co-founder of Ph, an AHRC-funded network of more than thirty early career academics working with photography. Ph are currently acting as Commissioning Editors of Either/And, aweb-based project developed by the National Media Museum as a space to discuss key issues in contemporary media that will result in a printed publication.