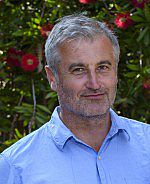 Prof
Dominic Kniveton
Post:
Professor of Climate Science & Society (Geography, Sussex Centre for Migration Research, International Development)
Location:
CHICHESTER 1 CI155
Email:
D.R.Kniveton@sussex.ac.uk

Telephone numbers
Internal:
7757 or 7238
UK:
01273 877757 or 01273 877238
International:
+44 1273 877757 or +44 1273 877238

Research expertise:
download vCarddownload vCard to your mobile
Biography
Dom is Professor of Climate Change and Society at the University of Sussex. His research spans issues of development, climate change, disaster risk, migration and health. He uses a variety of methods in his research including numerical modelling and qualitative techniques such as Q methodology and serious games. He has been PI or Co-I on grants totalling over £7 million. Through his research he has been asked for advice from the United Nations, the World Bank, the EU, the UK government and the International Organisation of Migration. His work in migration and climate change was recognised with the Royal Geographical Society's Cuthbert Peek award. Dominic's current research projects include Future Climate for Africa AMMA2050 project in West Africa (DFiD/NERC/ESRC); the Science for Humanitarian and Emergency Research's ForPAC project in Kenya (DFiD/NERC/ESRC); the Migrants on the Margins project in Bangladesh, Somaliland, Zimbabwe and Sri Lanka (ESRC/DFiD/RGS); and the future of migration in Europe (European Commission's Joint Research Centre on Foresight, Behavioural Insights and Design for Policy) . He is a member of the Lancet Countdown and has a visiting scientist position at the International Centre for Integrated Mountain Development (ICIMOD).
Community and Business
EXAMPLES of LINKS with BUSINESS, ENTERPRISE and the Community
2017 Invited contribution to EU's JRC foresight project on the future of migration in Europe
2016 Invited to be Mid-term Assessor of the WISER project http://www.metoffice.gov.uk/aboutus/what/international/projects/wiser
2016 The Advisory Committee Member of Global Platform for Disaster Risk Reduction http://disasterdisplacement.org/
2016-2017 NERC/ESRC/AHRC, Building resilience and inclusion in Sub-Saharan Africa through social learning around climate risks, PI, working with Kenya Meteorological Department and the Ada consortium http://www.adaconsortium.org/The Ada consortium brings together Christian Aid (CA), International Institute for Environment and Development (IIED), Kenya Meteorological Services (KMS) and Met Office. Partners take responsibility for the work in different counties: Christian Aid leads in Kitui and Makueni, through its local partner Ukambani Christian Community Services currently rebranding to Anglican Development Services Eastern (ADS-E) while IIED also the grant holder, leads the work in Garissa, Isiolo and Wajir through three local partners: WomanKind Kenya, Resource Advocacy Programme in Isiolo and Arid Lands Development Focus in Wajir respectively.
2016-2020 DFID/NERC, Science for Humanitarian Emergencies & Resilience (SHEAR) project: ForPAC, 2016-2020, Co-I, working with Red Cross Kenya, Red Cross Climate Centre, Kenya Meteorological Services, National Drought Management Authority (Kenya) and Alert Network http://portal.alertpreparedness.org/the-alert-project/ The ALERT Project is led by the following consortium of organisations: CARE, Concern Worldwide, Handicap International, HelpAge International, Islamic Relief, Oxfam, and Coventry University.
2015-2019 DFID/NERC Future climate for Africa project: AMMA2050 (co-PI). Working with the Governments of Burkina Faso and Senegal.
2013-2015 DFID StARK+ Strengthening Adaptation and Resilience to Climate Change in Kenya, Ada Consortium
2015 Presentation at the World Bank on the role of migration in building adaptive capacity as part of KNOMAD Longitudinal Research on Environmental Change and Migration: A Workshop on Objectives, Methods, and Applicability to Policy and Practice March 19-20, 2015, World Bank, Washington, DC
2015 Participation in the Nansen Initiative Civil Society and Consultative committee meetings on the Protection Agenda in Katmandu in January and Geneva in March
2011 Exchange partner on Climate and Development Knowledge Network – Innovation Fund Project 'Climate science humanitarian policy exchange' with Humanitarian Futures Programme (HFP), Christian Community Services Mount Kenya East (CCSMKE) Christian Aid InterGovernmental Authority on Development (IGAD) Climate Prediction and Application Centre (ICPAC), Kenya Meteorological Department (KMD) The Senegalese Red Cross (Croix Rouge Sénégalaise-CRS) International Federation of the Red Cross-Red Crescent (IFRC) regional office for the Sahel Red Cross-Red Crescent Climate Centre, African Centre of Meteorological Application for Development (ACMAD) partnership with the Agence Nationale de la Météorologie du Sénégal (ANAMS), CAFOD and Oxfam GB, Liverpool University, Oxford University, UK Met Office Hadley Centre, University Cheikh Anta Diop.
2011 Invited participant with humanitarian actors in Foreign and Commonwealth Office funded 'Making better use of climate science' in Nairobi and Arusha, Kenya & Tanzania .
2010 Judge and steering committee member of FOTODOCUMENT (http://www.fotodocument.org/).
2010 Invited talk at United Nations Population Fund UNFPA supported population Dynamics and Climate Change II, Mexico City.
2009 Invited talk and participant at Climate Outreach and Information Network (COIN), Climate change refugee forum event r in partnership with Refugee Council, Refugee Action, Praxis and Migrant Rights.
2009 Invited talk on the use of Agent based models in Migration Modelling to the Lead Experts and Project Team of the Global Environmental Migration Project of the Foresight Project of the Govt. Office for Science at the Department for Business Innovation and Skills, London.
2009 Invited steering committee member of Climate Change, Environment and Migration Alliance – a multi-stakeholder global partnership of concerned actors including international organisations, interested grups of states and representatives of the private sector, the scientific and professional community and civil society.
2009 Invited participant at Government Office for Science, Foresight scoping workshop on Migration, 1st June, London.
2008 Ambiental Technical Solutions. Development, submission and award of SEEDA funded BUSINESS+ project between Ambiental and University of Sussex.
2008 Keynote speaker to international diplomatic community at United Nations on 'Climate change, environmental degradation and migration: how viable are current predictions?' 9th May, New York, USA.
2008 Invited participant and keynote speaker at United Nations ENVIRONMENT PROGRAMME, International Organistaion for Migration, Munich-RE and UNITED NATIONS University research workshop on Migration and the Environment: Developing a global research agenda measuring the Migration/Environment Nexus. Munich, Germany.
2008 Invited participant and facilitator at Foreign and Commonwealth Office, Ministry of Defence and Department of International Development (DFID) workshop on Future trends and challenges: Drivers for Change in Africa. Wilton Park, UK.
2007 Invited participant in expert seminar of International Organistaion for Migration and United Nations Population Fund on Migration and the Environment, Bangkok, Thailand.
2006 Invited participant of roundtable discussion on climate change at 'South Africa Day', organised by the Royal Society, with the UK's Office of Science and Technology with the Department of Science and Technology of South Africa, London, UK.
2004 Keynote speaker to Heads of all of the African Meteorological Services at the 6th EUMETSAT User forum in Africa, Brazzaville, Republic of Congo.