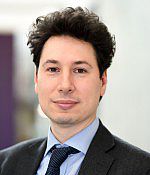 Dr
Michael Hopkins
Post:
Senior Lecturer (SPRU - Science Policy Research Unit, Business and Management)
Other posts:
Director of Research and Knowledge Exchange (School of Business, Management and Economics)
Location:
JUBILEE BUILDING 385
Email:
M.M.Hopkins@sussex.ac.uk

Telephone numbers
Internal:
7690
UK:
01273 877690
International:
+44 1273 877690

Research expertise:
download vCarddownload vCard to your mobile
Biography
Michael M Hopkins, BSc MSc, DPhil (Sussex)
Michael is a biologist with subsequent degrees in Technology and Innovation Management (M. Sc. with Distinction), and Science and Technology Policy (D.Phil). He has more than 15 years experience researching the sociotechnical challenges associated with biomedical innovation.
Michael is currently Director of Research at SPRU and Principal Investigator for the SPRU team of a Anglo-French collaborative ANR-ESRC funded interdisciplinary research project employing mixed method to understand processes of technological emergence in biomedical innovation
(e.g. drugs and diagnostics). In particular the MDET project (Mapping the Development of Emerging Technologies) seeks to explore the histories and evolving networks associated with these technologies using novel scientometric tecniques and interfaces. For more details s
ee
http://www.interdisciplinaryscience.net/projects/mdetp

.
In recent years Michael has worked on a range of other research projects funded by the European Commiss
ion's framework programmes and Joint Research Centre as well as the European Research Council, the US National Science Foundation, the UK's Engineering and Physical Sciences Research Council, Economic and Social Research Council, the National Endowment for Science Technology and the Arts, Department of Trade and Industry, the Human Genetics Commission, the Strategic Advisory Board for Intellectual Property, and Cancer Research UK. He has also consulted in the bio/pharmaceuticals sector and for international organisations including Europa Bio and the OECD.

From 2004-2006 Michael was a Research Fellow of the Economic & Social Research Council and Medical Research Council, and from 2007-2010 a visiting fellow at Cass Business School.
Current and recent research projects have focused on:
- The use of foresight programmes by developmental states.
- Open-innovation/ user-centric innovation in engineering consultancies.
- The role of DNA patents in biomedical innovation, especially in diagnostics.
- The 'myth of the biotech revolution' in drug productivity
.
- The emergence of new technologies in diagnostics.
- The financing of R&D for drug discovery in small firms.
- Trends in Big Pharma R&D publications.
- Complementarities & interdependencies amongst funders of biomedical research
Michael lectures on Innovation in Bioscience and Medicine (for the School fo Life Sciences), Managing Change, Technology and Innovation Systems, and Managing Intellectual Property (for the School of Business Management and Economics).
M.Sc and PhD Supervision:
Michael is interested in supervising projects on a broad range of biomedical themes such as government policy (inclucing science funding programmes, and technology policy), corporate finance, intellectual property, regulation, collaboration, novel business models, and technology foresight.
Twitter: @biotechpolicyUK
Role
Director of Research, SPRU