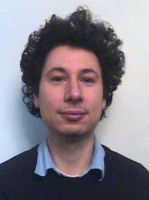 Post:
Senior Lecturer (SPRU - Science and Technology Policy Research, Business and Management)
Other posts:
Director of Research and Knowledge Exchange (School of Business, Management and Economics)
Location:
Jubilee Building 385
Email:
M.M.Hopkins@sussex.ac.uk

Telephone numbers
Internal:
7690
UK:
01273 877690
International:
+44 1273 877690

Research expertise:
download vCarddownload vCard to your mobile
Biography
Michael M Hopkins, BSc MSc, DPhil (Sussex)
Michael is a biologist with subsequent degrees in Technology and Innovation Management (M. Sc. with Distinction), and Science and Technology Policy (D.Phil). He has more than 15 years experience researching the sociotechnical challenges associated with biomedical innovation.
Michael is currently Director of Research at SPRU and Principal Investigator for the SPRU team of a Anglo-French collaborative ANR-ESRC funded interdisciplinary research project employing mixed method to understand processes of technological emergence in biomedical innovation
(e.g. drugs and diagnostics). In particular the MDET project (Mapping the Development of Emerging Technologies) seeks to explore the histories and evolving networks associated with these technologies using novel scientometric tecniques and interfaces. For more details s
ee
http://www.interdisciplinaryscience.net/projects/mdetp .
In recent years Michael has worked on a range of other research projects funded by the European Commiss
ion's framework programmes and Joint Research Centre as well as the European Research Council, the US National Science Foundation, the UK's Engineering and Physical Sciences Research Council, Economic and Social Research Council, the National Endowment for Science Technology and the Arts, Department of Trade and Industry, the Human Genetics Commission, the Strategic Advisory Board for Intellectual Property, and Cancer Research UK. He has also consulted in the bio/pharmaceuticals sector and for international organisations including Europa Bio and the OECD.

From 2004-2006 Michael was a Research Fellow of the Economic & Social Research Council and Medical Research Council, and from 2007-2010 a visiting fellow at Cass Business School.
Current and recent research projects have focused on:
- The use of foresight programmes by developmental states.
- Open-innovation/ user-centric innovation in engineering consultancies.
- The role of DNA patents in biomedical innovation, especially in diagnostics.
- The 'myth of the biotech revolution' in drug productivity
.
- The emergence of new technologies in diagnostics.
- The financing of R&D for drug discovery in small firms.
- Trends in Big Pharma R&D publications.
- Complementarities & interdependencies amongst funders of biomedical research
Michael lectures on Innovation in Bioscience and Medicine (for the School fo Life Sciences), Managing Change, Technology and Innovation Systems, and Managing Intellectual Property (for the School of Business Management and Economics).
M.Sc and PhD Supervision:
Michael is interested in supervising projects on a broad range of biomedical themes such as government policy (inclucing science funding programmes, and technology policy), corporate finance, intellectual property, regulation, collaboration, novel business models, and technology foresight.
Twitter: @biotechpolicyUK
Role
Director of Research, SPRU
Current and recent research interests include:
The contribution of 'hidden innovation' especially innovations emerging from public sector laboratories - particularly in relation to genetic testing technologies (cytogenetics, molecular genetics and biochemical genetics) See policy report for NESTA here: http://www.nesta.org.uk/library/documents/Nesta%20Report%20TIG.pdf
Capabilities, learning and knowledge management in innovative organisations and networks - including pharmaceutical/ biotech firms, engineering consultancies, and their associated project networks and learning networks. Read about Big Pharma's declining contribution to European R&D here (nominated for DRUID best paper award 2012): http://www.sussex.ac.uk/Users/ir28/pharma/bigpharmalittlescience.pdf
Industrial dynamics, strategy and competitiveness in biotechnology/ pharmaceuticals, including firm life cycles (spin-out, financing, growth, acquisition) and alliance formation. See below - a recent a comprehensive UK biotech sector history exploring why UK biotech firms are smaller and shorter lived than their US counterparts: http://dx.doi.org/10.1093/icc/dtt022
Intellectual property rights in biotechnology particularly trends in nucleotide (DNA/RNA) sequence patenting and organisations' strategies for gaining and exploiting patents. Hear Michael discussing DNA patenting on BBC Radio 4's In Business: http://www.bbc.co.uk/programmes/b037vb4d
Theoretical/ conceptual research interests:
Studies of the evolution of technology particularly STS approaches: The promise of technology and role of power in stakeholder networks – frameworks for assessing the promise of technology and the impact of expectations and the power of groups in the shaping of technology; Understanding the role of risk in shaping networks that support technological change (e.g. in genetic testing services and engineering services
Organisational learning and development of capabilities especially learning in the project based firm, and knowledge management systems.
National systems of innovation especially aspects relating to financial support, intellectual property, and regulation of risks.
The use of mixed methods for rich and informative problem-centred empirical studies, in particular using hybrid qualitative and quantitative methods.
Michael Hopkins co-convenes (with Adrian Ely) a third year undergraduate module for Life Science and lectures on a range of subjects related to Innovation in Bioscience and Medicine (reading list available on request).
Other teaching interests include:
Technology and Innovation Systems (MSc/ U/G)

Managing Intellectual Property (MSc)

Understanding the Business Environment (MBA module)
Supervisory interests for D.Phil and M.Sc projects:
See theoretical and empirical themes outlined under research.
Hopkins, Michael M, Crane, Philippa A, Nightingale, Paul and Baden-Fuller, Charles (2013) Buying big into biotech: scale, financing, and the industrial dynamics of UK biotech, 1980–2009. Industrial and Corporate Change, 22 (4). pp. 903-952. ISSN 0960-6491
Hopkins, Michael and Siepel, Josh (2013) Just how difficult can it be counting up R&D funding for emerging technologies (and is tech mining with proxy measures going to be any better?). Technology Analysis and Strategic Management. ISSN 0953-7325
Rafols, Ismael, Hopkins, Michael M, Hoekman, Jarno, Siepel, Josh, O'Hare, Alice, Perianes-Rodríguez, Antonio and Nightingale, Paul (2012) Big pharma, little science? A bibliometric perspective on big pharma's R&D decline. Technological Forecasting and Social Change. ISSN 0040-1625 (In Press)
Hopkins, Michael and Hogarth, Stuart (2012) Biomarker patents for diagnostics: problem or solution? Nature Biotechnology, 30 (6). pp. 498-500. ISSN 1087-0156
Hogarth, Stuart, Hopkins, Michael M and Rodriguez, Victor (2012) A molecular monopoly? HPV testing, the Pap smear and the molecularisation of cervical cancer in the USA. Sociology of Health and Illness, 34 (2). pp. 234-250. ISSN 0141-9889
Nightingale, Paul, Baden-Fuller, Charles and Hopkins, Michael M (2011) Projects, Project Capabilities and Project Organisations. In: Advances in Strategic Management. Emerald Group Publishing Limited, pp. 215-234. ISBN 978-1-78052-192-3
Hopkins, Michael M, Tidd, Joe, Nightingale, Paul and Miller, Roger (2011) Generative and degenerative interactions: Positive and negative dynamics of open, user-centric innovation in technology and engineering consultancies. R&D Management, 41 (1). pp. 44-60. ISSN 0033-6807
Hopkins, Michael M, Martin, Paul A, Nightingale, Paul, Kraft, Alison and Mahdi, Surya (2007) The myth of the biotech revolution: an assessment of technological, clinical and organisational change. Research Policy, 36 (4). pp. 566-589. ISSN 0048-7333
Hopkins, Michael M, Mahdi, Surya, Patel, Pari and Thomas, Sandy M (2007) DNA patenting: the end of an era? Nature Biotechnology, 25 (2). pp. 185-187. ISSN 1087-0156
Hopkins, Michael M, Ibarreta, Dolores, Gaisser, Sibylle, Enzing, Christien M, Nightingale, Paul and et al, (2006) Putting pharmacogenetics into practice. Nature Biotechnology, 24 (4). pp. 403-410. ISSN 1087-0156
Hopkins, Michael M and Nightingale, Paul (2006) Strategic risk-management using complementary assets: organizational capabilities and the commercialization of human genetic testing in the UK. Research Policy, 35 (3). pp. 355-374. ISSN 0048-7333
Woelderink, A, Ibarreta, D, Hopkins, M M and Rodriguez-Cerezo, E (2006) The current clinical practice of pharmacogenetic testing in Europe: TPMT and HER2 as case studies. Pharmacogenomics Journal , 6 (1). pp. 3-7. ISSN 1470-269X
Hopkins, Michael M and Nightingale, Paul (2004) Risk management and the commercialization of human genetic testing in the UK. In: The Economic Dynamics of Modern Biotechnology. Edward Elgar, pp 135-166. ISBN 9781845427900
Thomas, S M, Hopkins, M M and Brady, M (2002) Shares in the human genome: the future of patenting DNA. Nature Biotechnology, 20. pp. 1185-1188.