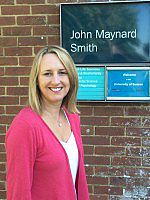 Biography
BSc Hons - Biochemistry (University of Warwick)
PhD on the Epstein-Barr virus nuclear antigens (CRUK Institute for Cancer Studies, University of Birmingham)
Following her PhD, Dr West worked on the the c-myc transcription factor at the University of Leicester as a Post-doctoral Fellow before moving to the MRC Laboratory of Molecular Biology at Cambridge to work on the regulation of HIV transcription. She moved to Sussex in November 2001 as an independent Wellcome Trust Fellow and was appointed as a member of academic faculty in March 2006, part-funded by the Wellcome Trust until March 2010.
The research in our laboratory focuses on the molecular mechanisms involved in the regulation of transcription initiation and elongation by viral and cellular factors. Our work specifically focuses on the regulation of cellular and viral gene expression by the nuclear proteins expressed by the cancer-associated virus Epstein-Barr virus (EBV) during latent viral infection. To date our research has homed-in on the mechanism of action of two EBV-encoded transcription factors (EBNA 2 and EBNA 3C) that have been shown to be required for the virus to infect and immortalise its host cell, the B lymphocyte.
Research in our laboratory has received funding from the Wellcome Trust, the Royal Society and the BBSRC.
For further information on our research please see the West Lab webpages
For an up-to-date publications list please click on the link to PubMed
Course Convenor:
Life Science Final Year Research Projects
Regulating the Transcriptome
Topics in Genetic Manipulation and Molecular Cell Biology (MSc)
Lectures/Seminars:
Regulating the Transcriptome
Clinical Symposium (oncogenic viruses) - Brighton and Sussex Medical School
Topics in Genetic Manipulation and Molecular Cell Biology (MSc)
Tutorials:
Cell and Molecular Biology
Biological Chemistry
Essential Skills in Biomedical Science (UG)
Skills for Research Bioscientists (MSc)
Molecular Cell Biology - Brighton and Sussex Medical School
Liver and the Regulation of Metabolism - Brighton and Sussex Medical School
Administrative roles:
Member of the Biochemistry Exam Board