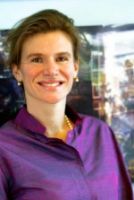 Prof
Mariana Mazzucato
Biography
Mariana Mazzucato (PhD) has held the RM Phillips Chair in the Economics of Innovation at the Science Policy Research Unit (SPRU), in the School of Business, Management and Economics, since 2011. Before joining SPRU Mariana held academic positions at the Open University, London Business School, Bocconi University in Milan and the University of Denver. Her research focuses on the relationship between financial markets, innovation, and economic growth - at the company, industry and national level.
Professor Mazzucato's book The Entrepreneurial State: debunking public vs. private sector myths (Anthem, 2013) was on the 2013 Books of the Year list of the Financial Times. It focuses on the need to develop new frameworks to understand the role of the state in economic growth and how to enable rewards from innovation to be just as 'social' as the risks taken.
In 2014 she was awarded the New Statesman SPERI Prize in Political Economy for her work on the entrepreneurial state and smart growth. In 2013 the New Republic called her one of the '3 most important thinkers about innovation'.
Professor Mazzucato's work is funded by a variety of sources. Between 2009-2012 she directed a large 3 year European Commission FP7 funded project on Finance and Innovation (FINNOV); her current project on Financing Innovation is funded by the Institute for New Economic Thinking (INET); and her project on Finance and Mission Oriented Investments is funded by the Ford Foundation's Reforming Global Financial Governance initiative.
Professor Mazzucato has recently been awarded two large grants from the European Commission's Horizon 2020 programme. The first, 'DOLFINS- Distributed Global Financial Systems for Society', is a cross-institution partnership led by the University of Zurich, aiming to address the global challenge of improving the financial system to better serve society, placing scientific evidence and citizens participation at the centre of the policy process in finance. It aims to improve the link between long run 'inclusive' growth and the structure of the financial system.
The second, ISIGrowth – Innovation-fuelled, Sustainable, Inclusive Growth - led by the University of Pisa, will examine the relationship between innovation, employment dynamics and growth in an increasingly globalised, financialised economy. The project aims to develop comprehensive policy recommendations across areas including innovation policy, fiscal policy, industrial policy, education policy and cohesion policy to achieve smart, sustainable and inclusive growth.
Professor Mazzucato advises policy makers around the world on innovation-led growth and is a member of the Scottish Government's Council of Economic Advisors; a member of the World Economic Forum's Council on the Economics of Innovation; and a permanent member of the European Commission's expert group on Innovation for Growth (RISE).
Further information about Professor Mazzucato's research outputs, policy impact, media engagement, and talks (including her TED Global talk), can be found on her website.
---
Watch
| | |
| --- | --- |
| Mission-Oriented Finance Conference highlights, July 2014 | University of Sussex film about the impact of Prof. Mazzucato's work, 2014 |
| Professorial Lecture, Risks & Rewards: rethinking value creation & value extraction, May 2014 | New Statesman SPERI Prize in Poiltical Economy - lecture, November 2014 |
| LSE Public Lecture: The Failure of Market Failure, October 2013 | Financial Times interview: The Entrepreneurial State, September 2013 |
---
Links
Research Projects
The Entrepreneurial State: debunking public vs. private sector myths
DOLFINS- Distributed Global Financial Systems for Society, funded by the European Commission's Horizon 2020 programme
Mission-Oriented Finance for Innovation Conference
Financing Innovation, funded by the Institute of New Economic Thinking (INET)
Financing Innovation & Growth (FINNOV), funded through the seventh programme framework of the European Commission
Rethinking the State, a video project linking two research grants, the Ford Foundation's Entrepreneurial State project and the Institute for New Economic Thinking project on Financing Innovation
Media and Talks
Articles written by Prof. Mazzucato
Articles about Prof. Mazzucato's work
Role
RM Phillips Professor in the Economics of Innovation