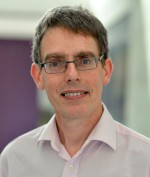 Biography
Andy McKay researches on development economics, especially in relation to poverty/inequality and how these are impacted by policy (trade, fiscal etc.); on pro-poor growth; on agriculture; and on international trade. His geographic area of expertise is predominantly Africa, especially East and West Africa.
He is main supervisor or co-supervisor of five DPhil students.
In Sussex he co-organises the ESRC Development Economics conferences, and organised the first one on economic growth in Sussex in September 2008 (http://www.sussex.ac.uk/economics/1-4-4.html). Within Sussex he co-organises internal workshops on development economics with the Institute dor Development Studies (http://www.ids.ac.uk/).
Andy is an associate director of the DFID-funded Chronic Poverty Research Centre (www.chronicpoverty.org), within which he is an active researcher. He acts as a resource person for the biannual workshops of the African Economic Research Consortium (www.aercafrica.org), a role he has played since 2005, and serves on the steering committee of a collaborative research project on growth-poverty reduction linkages in Africa.
Andy has extensive experience of giving policy advice to bilateral donors including DFID, international organisations and governments of developing countries. He also has significant experience of giving short courses, especially for government employees, in the north and south.
He has previously worked at the Universities of Nottingham (1992 to 2003) and Bath (2003 to 2006); as well as the Overseas Development Institute (2001 to 2005). He has also worked on many consultancy assignments.
Role
Andy McKay is professor of development economics and head of the economics department at the University of Sussex as from August 2009.
He had acted as convenor of MSc programmes in economics until the end of the 2008-09.
In 2011/12 Andy's main class teaching was on Microeconomics 1 (first year) and on the MSc development economics courses in the first term (broadly micro topics). He also convened Contemporary Economic Issues.
Andy has many DPhil students for whom he is main or joint supervisor.
Alvaro Monge Zegarra (http://www.sussex.ac.uk/economics/profile192756.html) is working on the informal sector in Peru, looking at it both from the point of view of the labour market and from the consumption point of view. The latter is posible because of a detailed household survey collecting information on where people acquired their consumption, and this (plus its interaction with the labour market) is potentially a very important contribution to work on the informal sector.
Kalle Hirvonen started his DPhil in October 2009. He is looking at the impact of shocks on household behaviour, including looking at their ex post responses based on assets and their impact on production choices. He is working with the data from the Kagera Health and Development Survey, and will be closely involved in collecting the sixth round of the survey in 2010.
Outi Korkeala (http://www.sussex.ac.uk/economics/profile192804.html) is working on the impact of climate change on household behaviour in Indonesia, specifically looking at the impacts of changing monsoon onset dates on consumption and education decisions. She also worked on the consumption issue in an internship in the World Bank office in Jakarta in summer 2008. She is working with data from the Indonesia Family Life Survey.
Francisco Gonzalez Carreras (http://www.sussex.ac.uk/economics/profile200141.html) is working on microcredit. In his first paper he has been studying the impact of microfinance on household outcomes in Bangladesh based on applying propensity score matching to a household survey there. He will also work on a similar issue in India.
Student Consultation
Monday 14.00-15.00
or by appointment a.mckay@sussex.ac.uk