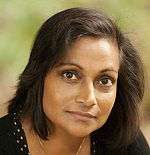 Prof
Minoli Salgado
Biography
BA Hons (Sussex); PGCE (Manchester); MA, PhD (Warwick)
Minoli Salgado is a writer and Professor of English. She convened the former MA in Colonial and Postcolonial Cultures and founded the undergraduate module Special Author: Salman Rushdie and the MA modules Bearing Witness: Terror and Trauma in Global Literature and The Migrant Writer. She was selected as the Olympic poet for Sri Lanka for the Cultural Olympiad in London 2012. She is on Leverhulme-funded research leave till September 2020.
Her personal website is HERE.
Awards and Grants
Leverhulme Research Fellowship (2018-2020)
Author's Foundation Grant (2015)
SI Leeds Literary Prize (2012)
AHRC Research Grant (2005-6)
Leverhulme Research Fellowship (2002-3)
British Academy Conference Grant (2002)
British Academy Major Studentship
Commendations
Echoes of Realities: EU-funded Slovene Translation Project - 'A Little Dust on the Eyes' one of two English novels selected for translation (2017)
DSC Prize in South Asian Literature - Longlist (2016)
Commonwealth Short Story Competition – Highly Commended Prize – story commercially produced on CD by the Commonwealth Foundation and broadcast globally (2009)
Public Activities
Literary Festivals and Events include:
Guest Writer – Galle Literature Festival, Sri Lanka; London Literature Festival, UK; Granada International Poetry Festival, Nicaragua; Poetry Parnassus, Cultural Olympiad, South Bank, UK; Ilkley Literature Festival, UK; Brighton Fringe Festival, UK; SOAS Literature Festival, UK; 'Mythologies of Silence', Trubar House of Literature, Slovenia. Guest Writer and Academic at the biennial International Conference on the Short Story in Lisbon; Toronto; Cork; New Orleans; Iowa.
Charities and NGOs
Guest speaker at events organised by English PEN, Voices for Reconciliation, International Alert and Brighton Freedom from Torture; Literary Judge, Amnesty International; Workshop on Truth Forums: developing a survivor-centred approach for the National Peace Council, Sri Lanka.
Media Interviews
TV: Kultura, RTV and Pisave: Art and Culture Show, RTV, Slovenia; Radio: BBC Sussex and Surrey, UK; TNL, Sri Lanka; Third Channel, Slovene National Radio; Press: Includes Delo, Slovenia; The Missing Slate and The Asian Writer; and the Sunday Times, Sri Lanka. Also interviews in academic journals: Postcolonial Text; ARIEL: A Review of International English Literature; Journal of Commonwealth Literature.
Editorial Boards
Journal of Commonwealth Literature; Journal of Caribbean Literature; Wasafiri: International Contemporary Writing