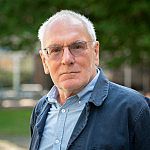 Biography
Fred Gray is Emeritus Professor of Continuing Education. Between August 2009 and October 2011 he was the University's Academic Director of Local and Regional Relationships and from 2002 to July 2009 the Dean of the Sussex Institute, one of the University's then six schools of study and including the Centre for Continuing Education and the departments of Education, Law and Social Work. For a over decade until 2001 he was the Director of the Centre for Continuing Education at the University.
A student in Hull and Cambridge (where he completed a geography PhD) he came to Sussex University in 1974 as a research fellow.
Outside the University, he is a Director of the West Pier Trust and Brighton Fishing Museum Trust. The honorary historian and archivist for the Brighton West Pier Trust, he is the author of Walking on Water: The West Pier Story. He has written widely about the architectural, social and cultural history and contemporary character of the seaside in Britain and further afield.
Role
Fred Gray is Emeritus Professor of Continuing Education.
Community and Business
Fred Gray has served on the boards of a number of local and regional organisations. These include Brighton Dome and Festival, the Gardner Arts Centre, Varndean College, Brighton, the Brighton West Pier Trust and Brighton Fishing Museum.
Fred Gray's major research interest is in the cultural and architectural history and contemporary condition of British and other Western seaside resorts.
He was an organizer of an exhibition funded by the Arts Council of England, the English Tourist Board and American Express, Resorts of Delight: England's Seaside Architecture, which toured nationally between 1993 and 1996 at venues ranging from Brighton to Scarborough and from the RIBA in London to Southport and Plymouth.
He is the author of Designing the Seaside. Architecture, Society and Nature, a cultural geography and history of seaside architecture. Published by Reaktion Books in July 2006, Designing the Seaside was shortlisted for the 2007 Sir Banister Fletcher Award and issued in paperback and published in Russian in 2009.
In 2009 he was the co-author with David Powell of a study of the economic recession and cultural regeneration in four southeast of England coastal towns. He is currently working on a cultural history of the palm tree.
Other research interests include lifelong learning (he is the editor of the 2002 Landscapes of Learning, about lifelong learning in rural Britain) and the post-war expansion of higher education in Britain (editing the 2011 Making the Future. A History of the University of Sussex, published to celebrate the University's fiftieth anniversary).
Short, Brian and Robinson, David (2011) Geography. In: Making the future: a history of the University of Sussex. University of Sussex, Falmer, Brighton, pp. 279-82. ISBN 9780904242690
Short, Brian (2011) The past in the present: the campus landscape before 1960. In: Making the future: a history of the University of Sussex. University of Sussex, Falmer, Brighton, pp. 58-63. ISBN 9780904242690