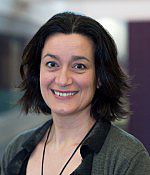 Prof
Maria Savona
Biography
Maria Savona is Professor of Innovation and Evolutionary Economics at SPRU, Science Policy Research Unit at the University of Sussex, UK. She has been Honorary Research Fellow at the Judge Business School, University of Cambridge, UK, and Associate Professor in Economics at the University of Lille 1, France. She is an economist and holds a Laurea in Economics cum laude from the University of Rome "La Sapienza", and a PhD in Science and Technology Studies from SPRU.
Research interests
Her main research interests are on the impact of innovation on employment and wages; the structural change of the sectoral composition of economies, and particularly on the international fragmentation of production involving services, and their effects on growth and development; the economics and policy of innovation in services; spatial distribution of innovation and production activities; the effect of barriers to innovation. She has published widely in these areas on international peer-reviewed journals (Journal of Economic Geography, Research Policy, Cambridge Journal of Economics, Journal of Evolutionary Economics, Journal of Economic Surveys, Structural Change and Economic Dynamics, Development and Change). Details of her publications are available at Maria Savona at SPRU
Research grants and external engagement
She has led a Joseph Rowntree Foundation grant on The Local Distribution of Productivity Gains: Heterogenous effects (LODGE); a UK Economic and Social Research Council grant, on Technical change, employment & inequality. A spatial analysis of households & plant data (TEMPIS); and SPRU contribution to the H2020 Innovation-Fuelled, Sustainable and Inclusive Growth (ISIGrowth). She has co-led a joint SPRU-IDS project funded by the IDRC on Pathways of Structural Change and Inclusive Development.
Over the past years she has been involved in several European Framework Projects (ServPPin, The Contribution of Public and Private Services to European Growth and Welfare, and the Role of Public-Private Innovation Networks, within EU FP7; AITEG, Assessing the Economic Impact of Technological Change and Globalisation, within FP5 and SIEPI, The Structure of European Innovation and Economic Indicators, within FP6; EU-DIME (Dynamics of Innovation and Markets in Europe) funded projects (Historical, Economic and Policy Studies of Technical Change and An evolutionary approach to development and institutions: an application to technological change in the agro-food sector); DIUS (Absorptive capacity and innovation across the UK regions) and NESTA (Understanding Hidden Innovation: Services in the UK. Indicators, Empirical Evidence and Policy Implications).
She has advised the IADB, Inter-American Development Bank; ECLAC, United Nation Economic Commission for Latin America and the Caribbean; UN ESCAP, United Nations Economic and Social Commission for Asia and the Pacific; OECD; NESTA, UK National Endowment for Science, Technology and Arts; BIS, UK Department for Business, Innovation and Skills; DETI, Irish Department of Trade and Industry. She has delivered keynotes on global structural change and the economics of innovation in services at the University of Nice; UCL School of Slavonic Studies, London; Universities of Berlin, Bremen, Jena, Strasbourg; Accademia dei Lincei, Rome; Inter-American Development Bank, Bogota, Colombia; the Economic Commission Latin American Countries (ECLAC); Max Planck Institute of Economics; Seville (Institute Prospective Technology Studies). She has designed and directed the MSc in Innovation for International Sustainable Development (now Sustainable Development) at SPRU.
Editorial boards and panel
She is editor for Research Policy; Journal of Evolutionary Economics; Economia Politica; The Eurasian Business Review; Academic Member of the ESRC Peer Review College; Expert evaluator for the European Commission; the Italian Ministry of Research and University; National Bank of Austria; Athens University of Economics and Business; Fond National Rechèrche Luxembourg; Canadian National Research Chairs; Academy of Science of Finland, Norwegian Research Council, UKRI, US National Science Foundation. She is a member of the High Level Expert Group on the Impact of Digital Transformation on EU Labour Markets for the European Commission. She is also Council Member of RESER – European Research Network on Services; REDLAS – Latin American and Caribbean Network on Services Research. She is a peer reviewer for over forty academic journals.
E.: M.Savona@sussex.ac.uk; T.: @maria_savona; W.: Maria Savona at SPRU
Role
Professor of Innovation and Evolutionary Economics at SPRU