Sussex Mobile
Sussex Mobile is a web-based service for smartphones, providing useful information and tools for members of the University.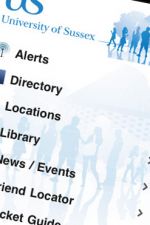 The service gives easy, mobile access to email, course timetables, details of library loans and reservations, campus locations and a pocket guide of useful information about the University.
Available as a web-based app for smartphones or as an iPhone app from Apple's App Store, the service is free to students and staff.
Features include:
News and events
Study timetable
Sussex Direct
Study Direct
A-Z Guide
Study skills
Locations
Course details
Library account
Staff directory
More information, including how to access or download the app, is available on the ITS web pages.
The news and events items shown in Sussex Mobile are fed in from the University's online news and events system, Broadcast. So, your item will automatically appear in Sussex Mobile, provided it has been added and approved in Broadcast.
Alerts are used extremely sparingly for urgent or emergency announcements. To speak to somebody about this, email internalcomms@sussex.ac.uk or call ext. 8888.