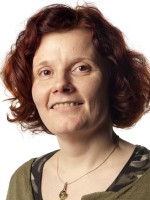 Dr
Monika Metykova
Biography
Before taking up the position at the University of Sussex, Monika worked as a lecturer at Northumbria University in Newcastle. She also held research positions at the University of Sunderland and Goldsmiths, University of London.
Role
Monika works as a lecturer at the School of Media, Film and Music. She teaches on the MA Multimedia Journalism, MA Journalism & Media Studies and MA Journalism & Documentary Practice.
Her research interests include transnational media; cultural and media policies; migration; nation, citizenship, cosmopolitanism and European public spheres. Her recent research involves a re-thinking of European media policy through a transnational lens and will be published later this year in Transforming Media Cultures: Cosmopolitan Communications in Europe.
In the Spring term 2011/12 Monika teaches on the following courses: Globalisation and Communication and Developing Research.
Tuesday 14:00-16:00 (You can also email me (m.metykova@sussex.ac.uk) for an appointment outside these hours.)
Wednesday 16:00-17:00 (You can also email me (m.metykova@sussex.ac.uk) for an appointment outside this hour.)