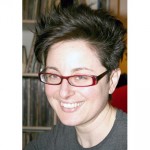 Dr
Aristea Fotopoulou
Role
Dr Aristea Fotopoulou is postdoctoral Research Fellow working at the intersections of media & cultural studies with science & technologies studies. She is interested in critical aspects of digital culture, emerging technologies and social change, in network politics, and queer theory.
She is based at the Centre for Material Digital Culture, Department of Media and Film, University of Sussex, working on the project EPINET Integrated Assessment of Societal Impacts of Emerging Science and Technology from within Epistemic Networks (FP7-SCIENCE-IN-SOCIETY-2012- European Commission). The Sussex strand of the project is led by Dr Kate O'Riordan and it is a media analysis of three emerging technologies – smart grids, wearable sensors and in-vitro meat.
Fotopoulou also works with Prof Nick Couldry at the University of London, Goldsmiths College (Department of Media and Communications) in the research project Storycircle (Framework for Innovation and Research in MediaCityUK (FIRM). This is an action research project which examines narrative processes and digital media.
She is Research co-investigator (with Dr Kate O'Riordan) in the project Sustaining networked knowledge: expertise, feminist media production, art and activism, funded by the Digital Economy 'Communities and Culture' Network+. The network brings together feminist cultural production, art and activist practices and enables exchanges between different researchers, activists, artists and dimensions of community. It aims to produce a sustainable co-created platform for critical and creative conversations about digital engagement.
During the academic year 2012-13 she was involved in the Horizon Scoping Study Digital expertise, literacy and knowledge funded by the Digital Economy Communities and Culture Network+/EPSRC, led by Dr Caroline Bassett. This project considers questions of digital literacy and, more broadly, questions of digital engagement and the kinds of expertise that are necessary to access/enable engagement (See Scoping study report for the Digital Economy 'Communities and Culture' Network+ (CCNetwork+): Literacy, Expertise & Knowledge Scoping Report).
Aristea completed her PhD in Media and Cultural Studies at Sussex with Dr Caroline Bassett and Dr Kate O'Riordan. Her thesis 'Remediating Politics: feminist and queer formations in digital networks' examines the conditions that constitute foreclosures or possibilities for feminist and queer politics in digital environments today. It addresses a series of vital questions regarding ideas of materiality, technology, representation and mediation. Fotopoulou's earliest work explored blogs of disabled women, and methodological issues in queer studies and intersectionality.
SELECTED RESEARCH AWARDS, FELLOWSHIPS & PRIZES
2014 RCUK Digital Economy NEMODE +, Tracking biodata for research purposes: ownership and sharing (P.I.).
2014 Visiting scholar, Research Center Science and Justice, University of Santa Cruz
2013 EPSRC/ CCN+, SusNet - Sustaining Networked Knowledge: Feminist Media, Art and Activism, Research Co-Investigator, with Kate O'Riordan (P.I.)
2010 FWSA shortlisted Essay Awards.
For more information please visit the research weblog Looping Threads or Academia.edu profile.
Activities
Dr Aristea Fotopoulou is organising (with Prof Sally Munt) the SCCS workshop 'Queer, feminist and social media praxis' (17 May 2013). The workshop is linked to the 2nd Annual IFjP Conference (May 17-19, 2013 University of Sussex, Brighton, UK) '(Im)possibly Queer International Feminisms'.
INVITATIONS
PEER REVIEW
Feminist Review Journal.
8th Conference of the International Association for the Study of Sexuality, Culture and Society (IASSCS), Naming and framing: The making of Sexual (In)Equality (2011, Madrid)
Community and Business
Involved in the organising of the community/academia focused events:
Member of:
Upcoming conference papers:
Selection of past conference papers:
Associate Tutor - School of Media, Film and Music, University of Sussex
Introduction to Media Studies 1 & 2, Academic Year 2009/2010
Research Methods in Media and Film, Academic Year 2009/2010
Questioning the Media, Academic Year 2010/2011
Analysing Digital Media, Academic Year 2010/2011
News, Politics and Power, Academic Year 2011/2012
Postgraduate tutorials, International student support, Academic Year 2011/2012
Visiting Lecturer, University of Brighton

Analysing Discourse (Critical Discourse Analysis prt of the module), Department of English and Media. Seminar Instructor, November 2010 - February 2011.
Broadcast Media - a critical introduction, University of Brighton in Hastings, Lecture on "Genre", March, 3 2011. Seminar instructor February 2012 - June 2012.
Critical Introduction to Media Studies, Lecturer & seminar instructor. October 2011- December 2011.
Module leader, University of Brighton
Global political communication, February 2012 - June 2012 (BA Broadcast Journalism, University of Brighton).
Student Consultation