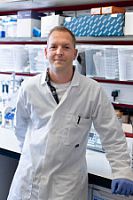 Dr
Rhys Morgan
Biography
Dr Morgan completed his BSc in Biomedical Science at the University of Portsmouth (2004-2007) before completing a PhD in Experimental Haematology at Cardiff University (2007-2011). His thesis examined the role of a Wnt signalling protein (γ-catenin) in acute myeloid leukaemia (AML) under the supervision of Professors Alan Burnett, Richard Darley and Dr. Alex Tonks.
From here Rhys joined the School of Cellular & Molecular Medicine at the University of Bristol in 2013 to pursue his interests in signal transduction and cancer biology. Under the supervision of Professors Christos Paraskeva and Ann Williams he undertook post-doctoral studies investigating the role of the stem cell marker LGR5 and Wnt/EGF signal transduction in colorectal cancer.
Between 2016-2019 Rhys was awarded a prestigious Kay Kendall Leukaemia Fund (KKLF) Junior Fellowship entitled 'Targeting nuclear localisation of β-catenin in acute leukaemia' which remains a key research focus in the School of Life Sciences at the University of Sussex. In 2018 Rhys joined the Department of Biochemistry and Biomedicine as a Lecturer in Haematology/Biomedical Science.
Dr Morgan is enrolled on the Academy of Medical Sciences (AMS) mentoring scheme where he is mentored externally by Prof. Anthony Green, University of Cambridge.
Role
Dr Morgan is a Lecturer in Haematology and Biomedical Science within the School of Life Sciences here at the University of Sussex.
His research examines the role of the Wnt/β-catenin signalling pathway in normal haematopoiesis, and how these processes are disrupted during the development of leukaemia.
ORCID ID: http://orcid.org/0000-0003-0429-6294
Dr Morgan is also Director of the Haematology Research group at Sussex, a newly formed research network on the Falmer campus investigating the molecular mechanisms in normal and malignant haematology. See website below for more details:
https://www.bsms.ac.uk/research/clinical-and-experimental-medicine/oncology/hrg/haematology-research-group.aspx