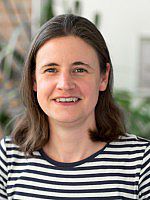 Dr
Joanna Richardson
Biography
I am currently a Lecturer in Biochemistry based in the Faculty of Life Sciences at Sussex University. After completing a first degree in Natural Sciences at Cambridge University, UK, I remained in the department of Zoology there and stayed on to complete my PhD in the field of evolutionary developmental biology. Following that, I pursued a research career in the field of developmental biology, specialising in the evolution of vertebrate novelties such as the origins of the head and neural crest. During this time I took on increasing teaching responsibilities, and, discovering that I enjoyed teaching more than research, applied for a teaching position at Sussex University.
Qualifications
2017: Postgraduate Certification in Higher Education, University of Sussex.
2005: Doctorate in evolutionary developmental biology, University of Cambridge.
2001: Natural Sciences (biological), BA Hons, University of Cambridge.
Role
I am a Lecturer on the Biochemistry and Biomedical Science degrees, covering biochemistry and molecular biology subjects across a range of modules. Additionally I lecture on Developmental Biology for second year biologists and neuroscientists. I convene the following modules: The Cellular and Molecular Basis of Life; Cell Regulation and Cancer; Biological Chemistry and Developmental Biology (co-convene).