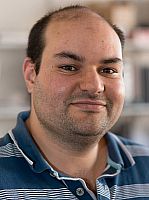 Mr
Gareth Williams
Biography
Gareth joined the SDDC from Pfizer Sandwich HTS group in 2011, where he worked for 11 years. He worked on a variety of different drug discovery targets
over the years using both biochemical and cellular based formats. He
has run HTS campaigns in 96, 384 and 1536 well formats, and is very experienced
in the use of laboratory automation. He obtained his degree in Biotechnology
from the University of Reading in 2000.