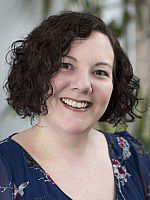 Dr
Lorraine Smith
Biography
Straight after my BSc in Biochemistry I took a trainee biomedical scientist position (then called a trainee Medical Laboratory Scientific Officer), which is where I undertook further education and gained a post-graduate certificate in haematology.
Having gained some important laboratory skills I wanted to develop these further within an area that greatly interested me as an undergraduate, so I left the NHS and took up a research technician post investigating Creutzfeldt-Jakob disease at the MRC Prion unit, which was based at Imperial College London, then UCL.
Whilst working at the Prion unit I became fascinated with the molecular causes of protein-misfolding diseases and came to the conclusion that the molecules responsible for folding proteins must have a role in these diseases. To investigate this further I embarked on a PhD to investigate the role of chaperone proteins, at Manchester University.
Whilst studying for my PhD I worked as a demonstrator for a number of undergraduate practicals, and discovered that I really enjoyed the interaction with students and that students responded to my teaching approaches. This prompted me to re-consider my career in research and ultimately encouraged me to embark on a Post-Compulsory PGCE, which qualified me to teach in the further education sector.
My career from then on has led me through further and higher education roles and management of departments. I was head of biology for my first teaching role, running both GCSE and A level biology courses. I then moved into HE, developing and teaching foundation degrees developed to increase employability and to address the widening participation in HE agenda. I worked closely with the NHS to develop a foundation degree in Clinical Life Sciences for pathology staff wishing to up-skill and gain a formal qualification, which was the first of its kind in the Uk to gain IBMS approval.
At this point I moved to the University of Sussex, where my main responsibility is the teaching and development of the BSc Biosciences foundation year.
Role
My role encompasses teaching on a variety of modules, including Foundation biology modules, year 1 Cell Biology, year 2 Medical Microbiology and year 3 Literature Projects. I am the course convenor for the BSc Biosciences (with a foundation year) course, and senior academic advisor for the student cohort of this programme. I also work with the International Study Group as the Partnership Link Tutor for Life Sciences.