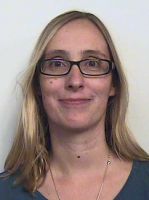 Dr
Frances Pearl
Post:
Bioinformatics Academic Research Manager (Biochemistry, Data Intensive Science Centre at the University of Sussex)
Other posts:
to Add to Acadall (Biochemistry)
Director of Doctoral Studies (School of Life Sciences)
Location:
JMS BUILDING 4D8
Email:
F.Pearl@sussex.ac.uk
Personal homepage:
Bioinformatics Lab

Telephone numbers
Internal:
6631
UK:
01273 876631
International:
+44 1273 876631
download vCarddownload vCard to your mobile
Biography
Educational Background
BSc Chemistry, 1st Class. UMIST
PhD, University College London (Dame Janet Thornton FRS) Analysis of alpha helices and their interactions.
Employment Background

After my PhD I spent 7 years as the CATH database manager at UCL. The CATH database classifies protein structural domains into structural and evolutionary families. I ran the CATH update team and developed algorithms to maintain the CATH database.
Following a career break, I was awarded a Daphne Jackson Research Fellowship hosted at ICR and funded by the MRC, to develop the MoKCa database that analyses cancer associated mutations.
Role
Bioinformatics Academic Research Manager
My role as as Bioinformatics Academic Research Manager is to develop bioinformatic collaborations with the School of Life Sciences. For instance, to support actvities in the Translational Drug Discovery Group at Sussex we have established computational biology and chemistry protocols to support the effective design of novel chemical modulators. Cheminformatic protocols have been designed for activities such as compound library selection, virtual screening, scaffold hopping and rational drug design. We also have an established expertise in protein modelling and and small molecule docking.
For further information on our research, please see the Bioinformatics Lab Web Pages