News
Professor fundraises for cancer charity with ambitious three-month challenge
By: Jessica Gowers
Last updated: Friday, 11 December 2020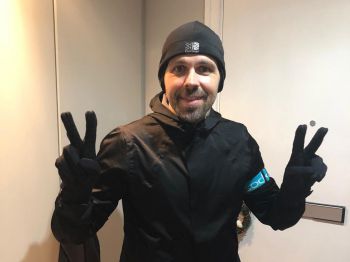 A Sussex cancer researcher is undertaking an ambitious fundraising challenge to raise money for the charity Action Against Cancer.
Within three months, Professor Georgios Giamas plans to run 148.9km, complete 1,489 minutes of High Intensity Interval Training (HIIT), 1,489 minutes of sit-ups in addition to 1,489 push-ups for each of the three months.
You might be wondering the significance of the number 1,489; it represents the 1,489 amino acids that make up the LMTK3 gene.
Professor Giamas discovered this cancer-causing gene in 2011, a discovery which has since shaped his research career as he is now working towards developing an anti-LMTK3 drug.
He said: "I have joked that I should get a tattoo of LMTK3, as working on the research to develop an anti-LMTK3 drug has taken over my life! Instead I have decided to take on an LMTK3-themed crazy fundraising challenge! I am doing this for Action Against Cancer, the charity that has supported my LMTK3 research since the beginning.
"I do not normally do this much exercise (especially considering the condition of my Achilles tendons!), and this is going to be very challenging. It will take up much of my time that I am not in the lab. I will be very grateful if you would support me in this crazy effort to fundraise for Action Against Cancer. There will be regular training updates along the way.
"For the person who donates the most, I will treat them to dinner - with me if they like - with maybe a 1,489 calorie target!"
Professor Giamas' fundraising challenge runs from 30 November 2020 to 28 February 2021.
To donate, visit Professor Giamas' Money Giving webpage.
To find out more about Professor Giamas' research, visit the Action Against Cancer website or the Giamas Lab website.