Five steps to add your item
How to create your publication record in Sussex Research Online
First, access Sussex Research Online (SRO). SRO can be found via Sussex Direct, under the Research tab; via the University homepage, by clicking on the Research tab then selecting 'Publications' from the menu; and it can also be linked to from the Library homepage - click on the fuchsia-coloured box labelled 'Sussex Research Online'.
You can also access SRO directly via this link: sro.sussex.ac.uk, which will open in a new window.
To log in to SRO, select 'Submit an item / Login' and sign in using your normal Sussex ITS username and password.
Once logged in to your workarea, you will see any items you have previously added to SRO. Above this list is an option to import records using a DOI, Endnote file or BibTeX, which we do not cover here (see Importing Records for further information).
Click on the New Item button in the centre of the screen.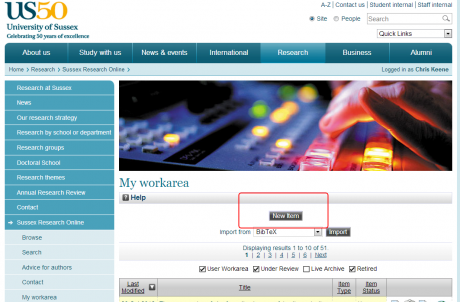 1 Select your Item Type. This determines which details you will need to provide.
Adding a Conference Paper? If it's to be published, select item type 'Conference Proceedings'.
Once you have selected the item type click Next.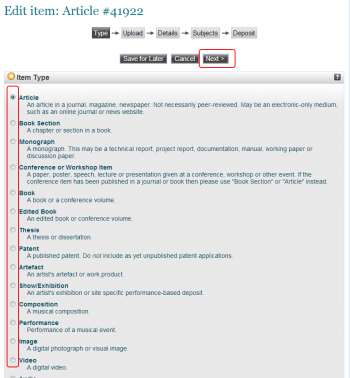 2 Upload the full text of your item (recommended, and essential for journal articles and certain conference proceedings accepted after 1 April 2016)
This should normally be your 'author's accepted manuscript' or AAM. This is the final version of your document (e.g. MS Word file) after any peer-review changes, but before publisher copyediting or formatting takes place. Preferably save it in PDF format before uploading, which you can do in Word. This allows users to access it more easily. Staff in the Library will check publisher permissions for you. You can check this yourself using the Sherpa Romeo Tool: just enter the journal name.
Ensure you label your file version using the drop-down menu (eg select Accepted if you upload your AAM).
Click on Next (at the top or bottom) to continue.
3 Add Details.
Help is available for every field in the Item Details section. Starred fields are mandatory, and you will be prompted to complete them before moving on to the next stage. If it has been published, the easiest way to fill this screen in is to find the details of the item from the version of record on the publisher's website (e.g. the article on sciencedirect.com for a journal article published by Elsevier).
For journal articles and conference proceedings, it is essential that you complete the Date of acceptance in the Dates field. Without this, you will be unable to deposit your record.
The following table is a guide for the fields used for a journal article. Other item types have similar fields and requirements but there will be some differences.
Title
Title of the item. Use minimal capitalisation.
Abstract
Optional. If you have the publisher's page open in another tab/window you can easily cut and paste this across

Authors

(Editors has the same rules)

When you enter the surname of a Sussex reseacher the system will provide a list of Sussex researchers with the same name. Select the correct person from the list. This is vital as it will add their Person ID in the field on the right, and ensure that the item is linked to the correct person.
Enter names as they appear on the offical publication/citation, and in the same order. (Example: If they use full first names and a middle initial, then enter the same here. Do not use full stops after initials. You are able to fully edit Sussex names after selecting them from the prompt list)
For Sussex reseachers, you can use the 'Show in web' dropdown box on the right next to each author's name. If you do not want it to show in the web profile, change the flag to 'No'.

Schools and Departments
Select the relevant Department at Sussex. If there are authors from more than one Sussex Department, hold down the Ctrl key and select each department connected to this item. In the field below, you can also select any relevant Research Centres or Groups.
Peer-reviewed
Has the item been peer-reviewed?
Status
Publication status. For an article, the options are 'Accepted' or 'Published'. 'Submitted' is for monographs only. 'Planned item' should not be used for any item type. If the item is not yet published, or available online via a journal's 'early access' scheme, select Accepted. If an article is submitted to SRO as Accepted then we will check the details again at a later date once it is published to add any additional information, such as issue and page numbers, which might not yet be available. Or, let us know immediately it is published by using the 'Request an update' button on your SRO record. Do not submit a duplicate record!
Publication Details and Funder Information

Journal Title, ISSN, Publisher, URL, Volume, (Issue) Number, Page Range, (Acceptance and Publication) Dates. These form the core part of a citation. Try to complete as many fields as possible. If you are depositing upon acceptance, you will not be able to complete all these fields. You must complete the Date of Acceptance. See the next row for the best link to use for the URL.

Funder Information: Complete these fields for any Sussex-awarded grants that are acknowledged on your research output. They will autocomplete from all fields. For example, if you start typing the Sussex Project Number, a list of relevant grants will display. Select, and all fields will be completed with the relevant data. Do not include grants awarded to other institutions.

DOI Number

The DOI consists of a string of characters beginning with 10 (eg 10.1021/ja016126t). Once published, you can find the DOI on the publisher's official page for the article. It is often located at the top of the article. You may be given your DOI upon acceptance of your article - if this is the case, then add to the relevant SRO field, but be aware it will not be made live until the article is available online.

Official URL: The DOI provides the most stable URL to your item. To make it a URL, just add 'http://dx.doi.org/' to the front. So using the example DOI above, the URL would be http://dx.doi.org/10.1021/ja016126t

Other fields

This screen has a number of other optional fields that can be used including Corporate Editors, Contributors, Project name, etc. You can click on these titles to expand the fields. These will not be included in the citation itself.
Click on Next to continue. If there are mandatory fields with information missing, a message will appear at the top of the screen explaining the issue. Once you've made the corrections, click on Next again.
4 Select your Subject area
It's not necessary to complete this section, as our Cataloguing team will do this for you. The list of subjects is based on the Library of Congress classification, as used by the Library. You can expand a section - to see more detailed subjects - by clicking on the 'plus', and add a subject by clicking Add. If you are uncertain, select an appropriate broad main subject. We do not advise selecting more than two or three subject areas. This will not affect users locating your research online.
Click on Next.
5 Deposit.
This will move your record into the Review area where details will be verified and enhanced by the Library.
If you have uploaded a file, the version and copyright status will be checked. If it doesn't appear to be the right version to fulfil REF2021 requirements, the Cataloguing team will contact you, Once checks are complete, the record will be made live. This will normally take a day or so, but may take longer in busy periods.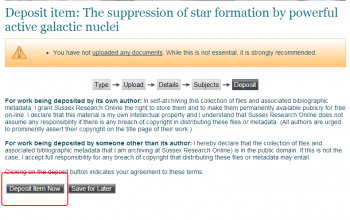 Click on Deposit Item Now. (If the item is still being submitted/reviewed and is not yet Accepted, please Save for Later. It will then appear in your work area when you login again, and you can deposit it at a later stage).
Prefer a printed guide? Print these steps and more: SRO User guide [PDF 251.85KB]

Many records to add? You can Import using EndNote, PubMed, BibTex and other sources.
For a detailed account on how to use the SRO, see Sussex Authors User Guide [DOCX 1.69MB]
Please contact sro@sussex.ac.uk for further information.