Online subject guides

New online subject guides - start your research here
Chloe Barnes - August 2010
In 2009 we introduced new online subject guides, with a professional web 2.0 look, to provide subject support and reflect current trends in student learning.
The desire to update our subject pages came from two interlinking ideas. Firstly, wanting pages which were dynamic and engaging as a tool for use in IL sessions and also to promote library resources – plus the knowledge that many of our users are disengaged with library webpages.
We needed to ensure that whatever functionality or applications we included were easily updated and maintained by the Learning and Teaching Support team without the additional expense associated with technical support and/or web specialists.
A review of what was available uncovered a product that would enable us to create interactive, professional looking guides with integrated web 2.0 tools. The product was LibGuides, a web application from Springshare, widely used to create online subject guides in the USA. As far as we are aware the University of Sussex is one of only 3 UK Higher Education institutions using this product.
Now our guides combines the best features of social networks, wikis, blogs, bookmarks, all contained within their own boxes on the page. This enables us to bring a wide variety of information to the users, via RSS feeds, YouTube clips, links and embedded search widgets.
Each guide contains a number of tabbed pages. These cover:
Finding articles: embedded QuickSearch function which searches for journal articles across a number of relevant online resources, such as databases, Subject resources, journal collections and digital archives
Online journals: embedded search for finding online journal titles
Library catalogue: embedded Library catalogue search
Special Collections: information about relevant collections and how to use Special Collections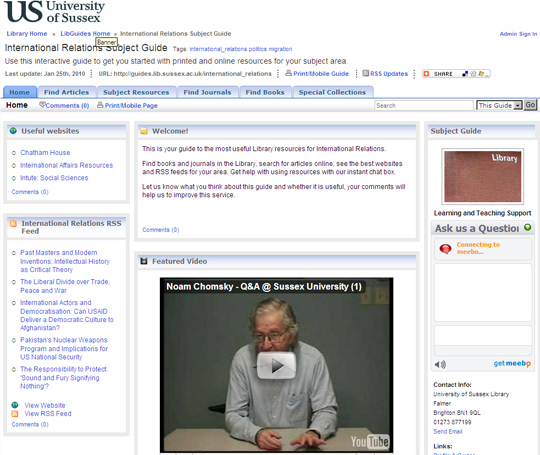 We aim to give students a starting point to their research where all the information they need is drawn together.
The guides also form a point of contact with the Learning and Teaching Support team, as we have an instant chat box on the front page, via Meebo, for answering Library queries.
We use the guides in teaching sessions, on the enquiry desk and promote them whenever we have a chance. Feedback has been really positive and usage high since the launch with around 70,000 hits so far! We are really proud of our pages and the opportunity they have provided to engage with our students online.