InfoPlus

InfoPlus: a new resource for researchers across the University
Joanna Ball - August 2010
The University Library has launched infoPlus, an online tool for postgraduates, doctoral students and researchers across the University. This innovative new resource supports the development of research skills and techniques through a combination of tutorials and e-learning videos.
It has been designed to support the existing work of the Library's Research Liaison team in providing one-to-one training and support in information skills for doctoral students and academics across the University.
The resource is divided into six main sections, covering:
How to find different types of information available to researchers, including the use of inter-library requests and reciprocal access schemes
How to make the most of the library's electronic resources using effective searching strategies
How to find resources using the Library catalogue, the Electronic Library and online databases
Evaluating information sources
The importance of accurate referencing and an outline of the major referencing systems
Other sources of help and support available for researchers within the University
The layout is simple, clear and easy to navigate, so that researchers can dip into to find the information they need. It supports a variety of learning methods, with a mixture of short text-based tutorials and video clips.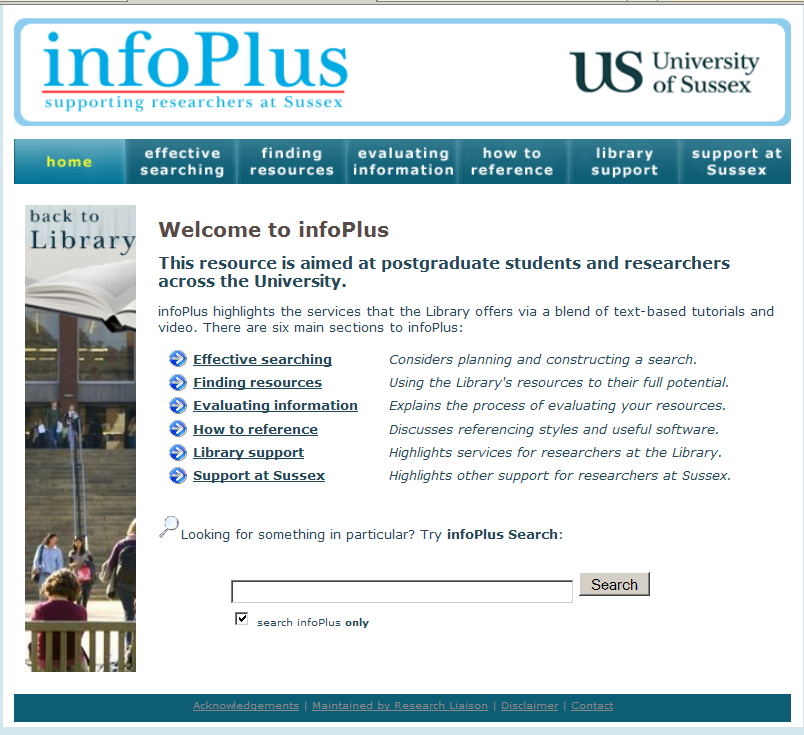 We're monitoring the usage of infoPlus and welcome feedback to help us to develop the resource in the future so that it remains responsive to the changing needs of researchers. Please take a look and let us know what you think: library.researchliaison@sussex.ac.uk.
Supported by Researcher Development funding, infoPlus was developed in liaison with doctoral students and in consultation with the Department of Informatics and the Teaching and Learning Development Unit.