CALM Archival Management System

CALM - Annual Review
Fiona Courage - June 2010
In January 2010 the Library's new archival catalogue system became publicly available.
Over the preceding months, the original web based and hardcopy catalogues for all archives held in Special Collections were transferred on to the CALM Archival Management System which in turn has been made available to staff and students at Sussex as well as the wider public here.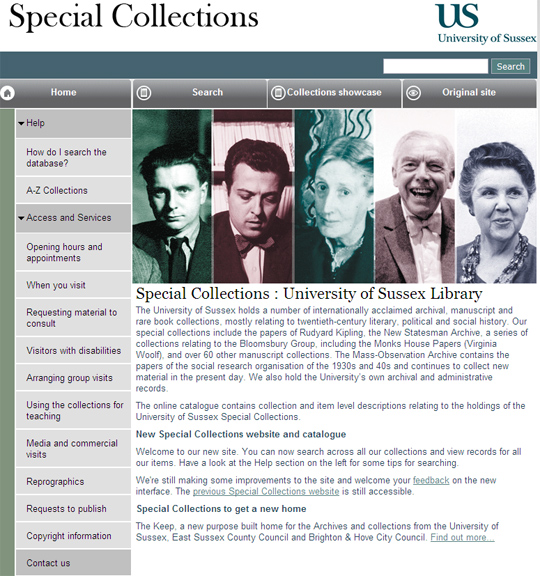 Previously researchers would need to search through each individual collection catalogue separately, requiring a prior knowledge that specific collections would hold relevant material. In contrast, the new catalogue system allows the use of keyword terms to search across the entire set of archival and manuscript collections for the first time, revealing materials from lesser researched collections as well as those from the more known such as the Mass Observation Archive, and papers of authors such as Virginia Woolf and Rudyard Kipling. By increasing accessibility to catalogue information researchers are now able to identify materials to support their work more easily, whilst discovering new areas that have yet to be looked into. The overall structure of each individual archive is now much clearer, highlighting individual sections and formats and allowing for more productive browsing. Work continues in developing the catalogue further to include reference information on people and locations highlighted within the collections.