Meet the Library Collection Advisors
Did you know that some schools have Postgraduate Collection Advisors who help to build Library collections in your subject areas?
The Postgraduate Collection Advisors are representatives are taught Postgraduates who have volunteered to help make the Library better for Masters students.
If you'd like to suggest a purchase for the Library, please do get in touch with your Collection Advisor, who will submit a request on your behalf.
There are termly meetings where issues around Library materials are discussed so please do talk to your Collection Advisor if you have any Library feedback, however big or small.
The Postgraduate Collection Advisors for 2017-18 are:
School of LPS: Alyssa Russell MA Gender Studies ar554@sussex.ac.uk
School of HAAP: Alyssa Sebio MA Art History and Museum Studies a.sebio@sussex.ac.uk
School of English: Ashley Barr MA Sexual Dissidence a.barr@sussex.ac.uk
School of English: Fatima Hasan MA Creative and Critical Writing f.hasan@sussex.ac.uk
School of ESW: Gill Emerson MA Education g.l.emerson@sussex.ac.uk
IDS: Ritu Gupta MA Gender and Development r.gupta@sussex.ac.uk
School of MPS: Xianlong Zhao MSc Financial Risk Management xz281@sussex.ac.uk
Meet Ritu Gupta
Ritu is our Postgraduate Collection Advisor for IDS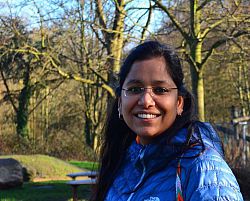 "I am studying MA in Gender and Development at the Institute of Development Studies, University of Sussex.I am a project management professional with a learning focused in development related issues like economic empowerment, gender equality and sustainability. I wanted to gain some hands-on experience of working in a library and being a Collection Advisor was an appropriate opportunity for me to do that. "
What if my school does not have a Postgraduate Collection Advisor?
If you have some feedback or a suggestion for us, but have no Collection Advisor for your School please email library@sussex.ac.uk
If you would like to represent your School as a Collection Advisor please do get in touch!