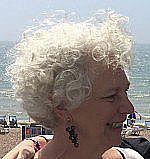 Ms
Susan Robbins
Biography
MA Education (TESOL), Institute of Education, University of London.
Senior Fellow of the HEA
I am a Teaching Fellow in the Sussex Centre for Language Studies and deliver a range of modules/courses to under- and post-graduate International students, to in-service teachers (home and international) as well as a module in Academic Development to Foundation Year home students.
I have delivered English for Academic Purposes (EAP), English for Specific Purposes (ESP/Business English) and General English courses/modules as well as initial and in-service teacher development courses in higher education institutions since 1989.
Selected Publications:
University of Sussex. (2016) Online Academic Writing Guide. Available to all Sussex staff for re-use.

Robbins, S. (2003) Business Vocabulary in Practice. Glasgow: HarperCollins.
Robbins, S. (2000) First Insights Into Business. Harlow: Longman/Pearson.
Cotton, D., and Robbins, S. (1993) Business Class. Harlow: Longman/Pearson.
Role
I currently convene the year-long core Academic Development module of the Foundation Years programme, delivered to 700+ students this year.