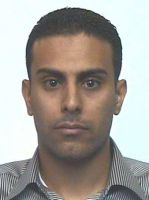 Dr
Abdullah Al-Barakati
Biography
Mr. Al-Barakati is a Graduate of BSc Computer Science, after that he was involved in a number of research activities before starting an MSc in Software Engineering specializing in the general area of e-Systems and electronic workflow management systems currently he is doing PhD in computer Science at University of Sussex, United Kingdom.
Role
University of Sussex
Currently an associate tutor at the University of Sussex teaching:
- Introduction to Computer systems
- Computer Architectures
- Database
- Web services
Electronic Workflow Management Systems operating in enterprise environments in conjunction with various web technologies such as web services while interacting and integrating with complex network infrastructures such as GRID networks. Further, the abovementioned research ventures intersect with the researcher's interests in e-Learning and Digital Library systems where he aims to develop viable and efficient workflow management frameworks for such environments. The technical and practical aspects of developing workflow management solutions for the full life cycle of the digital assets being used in e-Science applications is also an area that the researchers has a keen interest in researching and investigating. Such disciplines include the different aspects of 3D Object Modeling, Digital Object Visualization and Data Mashups. The researcher published a number of academic research papers that cover various technical and research aspects of the aforementioned topics.
Patoli, M Z, Al-Barakati, A, Gkion, M, Zhang, W, Newbury, P, Beloff, Natalia and White, M (2007) A Service-Orientation Approach for a Digital Library System focused on Portable Antiquities and Shared Heritage. In: VAST 2007: 8th International Symposium on Virtual Reality, Archaeology and Cultural Heritage.