Sussex has recently become a popular choice for Saudi Arabian students at both undergraduate and postgraduate level.
Why Sussex?
Saudi Arabian students choose to study at Sussex because of our outstanding UK and world class rankings, the quality of our teaching and research and because of our attractive campus near the lively and cosmopolitan city of Brighton.
Many of our Saudi Arabian students will enrol on short or long-term English Language courses at Sussex Language Institute here on campus before they begin their academic programme.
Courses run by the following departments are popular amongst Saudi Arabian students at Sussex at all levels:
Clubs and Societies
Sussex has a large and active Student Union with over 115 clubs and societies and 38 sports clubs you can join. Some of our current Saudi Arabian students have an active role in the Islamic Thaqalayn Society amongst others.
Student profile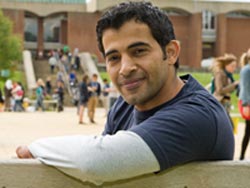 Sami Al Enezi - MA Applied Linguistics
Before I decided to study in the UK, I was working as an English Language teacher in Kuwait at High schools and vocational institutions for about 8 years. I had studied my Bachelor degree at University of Kuwait in English Language and Literature.
I wanted to study in the UK because it is one of the leading countries in the excellence of higher education. Standards of quality for UK universities are amongst the highest in the world.
I choose the University of Sussex because it has an outstanding reputation as one of the UK's leading universities. It has excellent teaching, research, sports and leisure facilities. It also has a dedicated undergraduate and postgraduate student support services. I applied to do MA Applied Linguistics and was accepted.
I was astonished when I visited the campus for the first time, I didn't expect it to be that big and to have all these facilities. Brighton also is a fascinating town by the sea, I don't think that I would like to live somewhere else.
I am studying in the Department of English and have found the Lecturers and supervisors I have worked with very professional, dedicated and helpful.
The best thing about life at Sussex is that it is like a small world with many small communities inside it. Because of its diverse student population, I have made many friends from different parts of the world.
I am due to finish my degree this year and when I finish, I will study my PhD in Sussex and I want to become a Professor.