The University of Sussex has institutional relationships in place with a number of outstanding global partners that underpin strategic initiatives for student and staff mobility, research collaboration and international teaching programmes.
The University is developing a core network of like-minded, high quality institutions around the world, in order to forge broad and deep engagement across a wide range of subject areas and enhance opportunities for major global research hubs.
The Chinese University of Hong Kong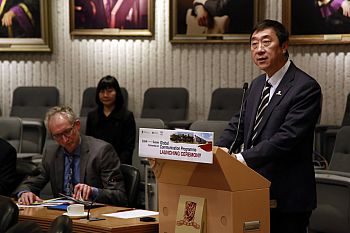 Sussex and The Chinese University of Hong Kong (CUHK) share a long history of connections, with Lord Fulton, the University's founding Vice-Chancellor, heading the commission that recommended the establishment of CUHK in 1963. An institutional Memorandum of Understanding signed in 2013 has strengthened the commitment to student mobility, with successful exchange agreements in place. CUHK is a partner for the Global Excellence Summer Programme, while Sussex has hosted undergraduate researchers from CUHK. Both institutions are committed to international research collaboration, with links in media and journalism, migration, drug discovery and neuroscience, and joint investment in cancer science and neuroscience. Sussex is an eligible partner for selected CUHK funding schemes, including the Inbound and Outbound Research Mobility Schemes, Bilateral Teaching Exchange Programme and Global Scholarship Programme for Research Excellence.
The Chinese University of Hong Kong, Shenzhen
Sussex has been proudly associated with The Chinese University of Hong Kong, Shenzhen (CUHK(SZ)), since it admitted its first cohort of undergraduate students in 2014. CUHK(SZ) is now an official undergraduate exchange partner, with 2016 marking the first year of student mobility, and has also hosted Sussex student groups for study trips, with a focus on logistics and supply chain management. Sussex is also a partner of CUHK(SZ) for the progression of students to Masters degrees, with an agreement signed in 2015 facilitating the advancement of CUHK(SZ) students to postgraduate programmes at Sussex in science, engineering and business. As an emerging research leader in the region, it is hoped CUHK(SZ) will become a partner for strategic research collaboration, with indications of synergies in robotics, computational neuroscience, sensor technology and nanostructured materials.
Georgetown University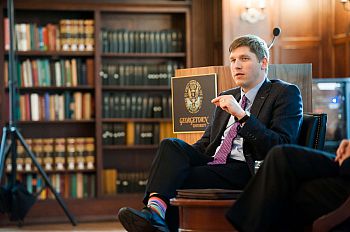 Georgetown University is a long-established partner for student mobility, with the first official agreement dating back to 1986 and over 90 students participating in exchange at both institutions since 1975. Founded in 1789, Georgetown is one of the world's leading academic and research institutions and academic links exist in fields including religious freedom, migration and refugee studies, and global health policy, including international access to vaccines. Following an institutional Memorandum of Understanding signed in 2013, Sussex has invested in doctoral mobility and research workshops at Georgetown through its International Partnership Development Fund, and Georgetown is an eligible partner for the prestigious International JRA scheme at Sussex.
University of Ghana
The University of Ghana (UG) is the oldest and largest university in Ghana and one of the foremost research institutions on the African continent. Strong links exist in Education, with Sussex and UG creating the International Conference on Education Research for Development as a global forum to disseminate research on education for development in Africa, alongside teacher education programmes. The Sussex-UG partnership was praised by former UN Secretary General Kofi Annan in 2015 as a model for building regional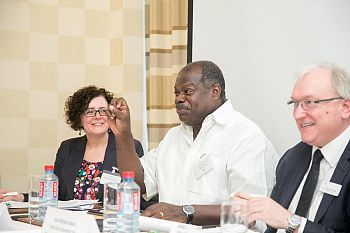 centres of excellence, and in 2016, Sussex and UG co-hosted a high-profile panel discussion in partnership with the Ministry of Education on Global North-South HE Collaboration.
Research connections also exist with Sussex faculty in the Migrating out of Poverty Consortium and African Economic History Network, and with researchers from the Institute for Development Studies, including those in the Future Agricultures Consortium and Dynamic Drivers of Disease in Africa Consortium. Following an institutional Memorandum of Understanding signed in 2015, UG students have been awarded scholarships for the International Summer School at Sussex and taken up placements on the International JRA programme, and Sussex and UG will launch a new field course in Accra.
Hong Kong University of Science and Technology
As a dynamic research-intensive University in a stunning location, Hong Kong University of Science and Technology (HKUST) is a popular destination for Sussex students, and the University now has exchange agreements in place with all four academic Schools. Under the Global Excellence Summer Programme, almost 50 Sussex students have also completed summer courses at HKUST, while Sussex has hosted oustanding young researchers in the Genome Damage and Stability Centre (GDSC) and Social Evolution Research Group under the International JRA programme. An academic partnership in genome stability has also emerged, with 12 laboratory heads from the GDSC spending a week at HKUST in 2015, identifying problems of common interest and complementary expertise in DNA metabolism and genome biology. This has led to doctoral student exchange and collaborations between laboratories.
Renmin University of China
As a global research leader in the social sciences and humanities, Renmin has been an important partner for Sussex for almost a decade, following an institutional Memorandum of Understanding signed in 2009. Researchers have collaborated in the areas of corruption, governance, innovation management and entrepreneurship, while links in business and management have led to Renmin's inclusion in the Intrapreneurship Hub, a collaborative research initiative with Bocconi University.
Since the student exchange agreement was signed in 2014, over 20 students have attended Renmin's International Summer School as part of the Global Excellence Summer Programme, with Renmin students visiting Sussex during term time and for the International JRA programme. Renmin has also hosted Sussex faculty to deliver summer courses and is the first institutional partner to host Sussex staff under an administrator exchange.
dentify problems of common interests and complementary expertise - See more at: http://iasprogram.ust.hk/201512gds/index.html#sthash.84Q2B5Nh.dpuf
Mahidol University
Frequently ranked as the leading university in Thailand, Mahidol University is an established partner for research and student mobility. An institutional agreement signed in 2014 has led to collaboration in a number of research areas, including biomedical sciences and migration and population research. In 2016, the first research grant was awarded to the Sussex-Mahidol Migration Partnership, which has led to the development of a Europe-Asia Migration Network. Sussex and Mahidol have also developed collaborative teaching models, with an international programme in Biomedical Science launched in 2014. The exchange agreement is popular with students from both institutions, while Mahidol undergraduates were part of the pilot cohort for the International JRA programme.
University of California, Santa Cruz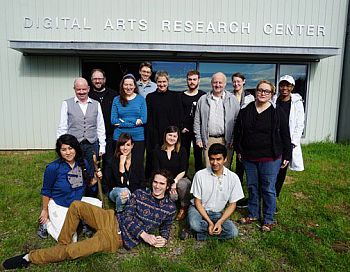 Founded in 1965 - just four years after Sussex, the University of California, Santa Cruz began as a showcase for progressive, cross-disciplinary undergraduate education. The two universities are well matched, both enjoying contemporary architecture, a scenic locaion near the coast and a reputation for research innovation and influence. With support from the International Partnership Development Fund, the School of Media, Film and Music at Sussex launched a Digital Media Exchange in 2014, leading to doctoral student mobility and research workshops on 'liveness' and bio-sensors.
Over the past decade, around 160 students have participated in study abroad and International Summer School programmes and in 2016, an institutional Memorandum of Understanding was signed that paves the way for further joint initiatives.