Dr Catherine Pope
Dr Catherine Pope, a research skills trainer and author, tells us how she came to do a PhD, and what happened next.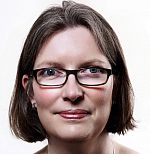 What's your background?
I didn't actually go to university until my early thirties. I'd been working as an IT manager and web developer for a while, but really wanted an academic career. Somehow I managed to persuade Birkbeck College to accept me onto their MA Victorian Studies programme without a first degree, which saved me six years' part-time study. I absolutely loved the subject and enjoyed the research.
Halfway through, I managed to injure my back quite seriously and spent a long time lying down and taking drugs. This made me think it was a good idea to give up my job to pursue a PhD and set up a publishing business. It wasn't a terribly good idea, but I do now have a PhD and Victorian Secrets, a press specialising in books from and about the nineteenth century.
Unsurprisingly, niche publishing isn't especially remunerative, so I built what is often grandly termed a 'portfolio career'. This comprised a part-time job in researcher training at Sussex, freelance web development, and working as a research assistant on a biography of Queen Victoria. I often ended up working 60 hours a week, which meant that my PhD suffered in the first couple of years.
After realising that my thesis wouldn't write itself, I became a time management maven and completed the PhD in just under 4 years. My topic was Florence Marryat, a Victorian author of rather saucy novels who also enjoyed a colourful personal life.
What are you doing now?
Originally, I hoped to become a lecturer in Victorian literature, but hadn't really grasped quite how diifcult this would be. I did some sessional teaching, which was sporadic and spectacularly badly paid. I couldn't face plodding on like that for ever in the hope that a suitable post would emerge.
Using the skills gained during my IT career, I'd started running workshops at Sussex a few years ago. With the expansion of the Researcher Development programme, I also ran webinars and developed online training courses on subjects such as social media. As The Digital Researcher, I now deliver researcher training for Sussex and a number of other institutions, and have also published ebooks on how to use Zotero, Evernote, and Scrivener. I still run Victorian Secrets, too, and take on occasional writing and research projects.
It's certainly not what I'd envisaged doing, but it suits me and is a good use of my unusual skillset. I love helping researchers to use technology and seeing what a difference it can make to them.
Do you have any top tips for researchers?
Don't just focus on your research, as even brilliant scholars are now struggling to find jobs. Make sure you have some transferable skills and can offer an employer something over and above everyone else.
I would say this, but don't be a techno-numpty. Many people pride themselves on not being very good with computers, but it's just not acceptable in the twenty-first century. Writing a blog, for example, can raise your profile and demonstrate your digital literacy. I've been blogging for 7 years and have been given dozens of free books and offered a number of paid work opportunities. It's good to be visible.