Dr Anneka Dawson
Dr Anneka Dawson, Research Manager at the National Foundation for Educational Research, tells us what happened after she finished her PhD at Sussex.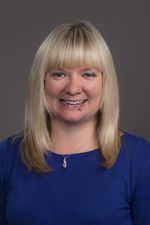 Please tell us a bit about your current role (e.g. job title, what you do, what you enjoy, what the challenges are)
I am currently a research manager at the National Foundation for Educational Research - a leading independent educational research charity. I enjoy working for a charity as I get to work with schools directly everyday. Over my three years working here I have visited a lot of schools and engaged with research areas of interest to teachers. I like that research here has a fast turnaround and is published for free access to all in an easily understandable format. The challenges are that the deadlines can be very tight and I am often juggling six or more projects at a time. However this does mean there is never time to get bored!
How was your experience of applying for jobs after completing your doctorate, and settling into your first post?
My experience of applying for jobs was quite challenging after finishing my doctorate. Most applications require a great deal of time and energy and because of the high response organisations receive, you often do not hear anything back at all which is very disheartening. I advise to be as flexible as possible when looking for your first position - you may not get your perfect research area first time but this will help you build up experience.
What experience and skills are important for your current role?
Organisation and prioritisation are key for keeping projects on time. I am a line manager now as well as project manager so enjoying working with others and good communication skills are important. Writing for different audiences and being able to convey research messages to non-academic audiences is crucial to ensuring our research reaches teachers and senior leaders in schools. An enthusiasm and motivation to improve the education system and help learners excel is important in my organisation.
How has the research experience and skills training gained during your doctorate been beneficial to your current role?
As I work in research, almost all of my research experience and skills have been relevant and useful to me in my current role and will help support me in research work in the future. I did not need to have a doctorate to get my job, but it certainly helps put you in front of the competition. However, employers value experience very highly too and my teaching and research work experience gained whilst doing my doctorate have helped enormously. I also completed an internship at a charity during my doctorate which helped me establish that I wanted to work within the third sector once I had finished my course.
What are your tips for those approaching the end of their doctorate (e.g. for successfully completing, thinking about career development etc.)
Keep going! It is very hard at the end of the doctorate to see that it will eventually finish and you will be able to return to having a normal life. Perseverance is the most important skill for you to have at this point. Maintain regular contact with your supervisor and talk to other people in the same position - you are not alone. Try to gain any work experience you can whilst doing your doctorate - teaching and research work will help on your CV.