Living Library
Thursday 28th June (10.00 - 12.00) - Open Learning Space, The Library
In our living library doctoral researchers are both the readers and the books.
Just like a normal library you can check out a 'book' on a topic that interests you, only at our living library the book is a doctoral researcher themselves.
The idea is that books share their experiences with others in the doctoral community- we know that doctoral researchers have a vast range of expertise and experiences in research which there is not always the opportunity to share. So here is an opportunity to borrow a book, have a chat, and learn from your peers.
How does it work?
As a reader, you come along to the Open Learning Space on the ground floor of the library and review the catalogue of living 'books' that are available. You read through the short abstracts and arrange to borrow someone. Our librarians will introduce you to your 'book' and you will then spend 10-20 minutes chatting over coffee/tea.
Readers are able to ask questions, and benefit from the experience of our books. Conversations are not directed in any way, making each loan unique. Our books will be open, enthusiastic and articulate about their topic, willing to answer a range of questions and offer a constructive perspective to readers. Books aim to intrigue, interest and inspire.
Want to reserve a specific 'book'?
If you would like to reserve a specific 'book' at a specific time you can now do so on the following link: https://livinglibrary.setmore.com/
Living Library Books
Take a look at the books you'll be able to loan from our Living Library on June 28th (covers courtesy of Sussex Library).
'Finding Calm in Productivity'

by Shanu Sadhwani, Doctoral Researcher, Brighton & Sussex Medical School

"If you feel as though you're 'not working hard enough' and no amount of coffee and chocolate is helping, then borrow me from the library so that we can discuss:

The stress caused by a PhD
Why Ganntt Charts are depressing
The imposter syndrome, perfectionism, and procrastination
Tips, strategies, and apps that can help you find your writing groove
How to present your work at conferences without stress
How to network at conferences without feeling like an imposter
How to write about things you don't feel you know anything about (like epistemology)
How to use 'dead' time (like train journeys)
Getting your supervisors to see draft 0.

I'm also happy to chat about career progression and pathways within academia. I have lectured on undergraduate and postgraduate courses and secured a post-doc position. I'm happy to share my strategies in the hope that it helps you.

Of course, we can also speak about my research interests, including: mixed methods research, dementia, and primary care.

Doing a PhD is one of the hardest things you could ever do. Whether or not you decide to borrow me from the library, I wish you well on your journey!"

'Listening to your sources'

by Liza Weber, Doctoral Researcher, School of History

"Ever wondered how to access or, better yet, create your own primary sources? Loan me out and I'll tell you all about it. I'll share my experience of how I unknowingly stumbled across the first-hand evidence that would eventually set my research on all-too-healthy tangent. 'Listening to your Sources' is a story about doing just that. It is a story about attending carefully to what may at first seem marginal but might, at a later date, be of paramount importance. In my case, learn how one interview with a 'Contemporary Witness' led me to a full-blown oral history project."

Liza is also happy to discuss her research, which explores the provenance of Nazi-confiscated artworks.

'A look behind the scenes of an academic journal'

by Neehal Bajwa, doctoral researcher, School of Education and Social Work

"If you want a behind-the-scenes glimpse into the process of publishing an academic paper, I'm the book for you! Whether you're thinking of submitting a paper, or starting a journal yourself, the knowledge I've gained as an editor on Excursions, Sussex's post-graduate research journal, can help you achieve your goal. Take me for a coffee and I'll tell you about my experience of:

How Excursions operates: our ethos and our processes
Writing a call for papers: how should you de-code a call? What are editors really looking for?
The art of giving and receiving feedback: how can we work with individuals to give good feedback and provide further opportunities?
The benefits of editing: how editing and publishing can be used as a networking opportunity

Of course, I'm also happy to talk about my research interests, which are father involvement in early childhood care, psycho-social approaches to studying identity, narrative research methods and the family in Pakistan"

'Love Your Word Count in a Weekend'

by Jessica Oliver, Doctoral Researcher, School of English.

"My book is all about my relationships with words. I love them, but they don't always love me back. Often, when I've needed them most, they've completely disappeared. If you're also embroiled in a love-hate relationship with words, loan me out!

My story includes:

My experience of the Thesis Boot Camp, an intensive workshop open to anyone who feels they are floundering in producing words for their PhD. It's an intensive weekend designed to encourage you to purely put words on the page. The weekend provided me with a supportive environment, which would also perfect for anyone who might be juggling a full time job and family, and finding it difficult to find a long stretch of time to get into a deep focus mindset. I went in to the weekend filled with panic and uncertainty and came away with tools to help me enjoy the writing process with less anxiety. I completed a chapter draft, met great people and had space and time to think about my thesis in new ways.

The tools I've discovered to make writing easier

How these tools have made me think about my thesis differently

I'm also happy to talk about my own research interests, which include the influence of digital culture on the contemporary novel's articulation of space and duration, taste, surveillance and empathy. I also have experience of organising a conference within my discipline which might be useful for others embarking on this challenge."

'Maintaining your mental health and well-being during your PhD'

by Sophie Valeix, Doctoral Researcher, Institute of Development Studies

"This book focusses on a key issue for the contemporary doctoral researcher – mental health. To me, this is probably the most challenging part of being a doctoral student, whether you have struggled with mental issues before or not. I'll be talking about why it is important to think about one's mental health and well-being while doing a PhD. I can also offer some tips I that I have learnt about how to maintain good mental health and manage mental illness whilst studying for a PhD, using resources available at the university and elsewhere. I can draw on my own experience of dealing with anxiety and depression, but I am also very interested in getting to know others' experiences during our chat, as everybody's story and strategies are different and insightful."

You can also come along and talk to Sophie about her research interests, which include veterinary medicine, emerging zoonoses, policy, and one health.

'Parenting Through a PhD'

by Marinela Barrios Aquino, doctoral researcher, Sussex Centre for Migration Research

"I am a parent of young children and have faced many challenges when trying to juggle both family life, academic studies and the pursuit of an academic career. Last year I was as a Hive scholar and worked hard to start a community of PhD Parents here at Sussex. I've found it to be incredibly rewarding and helpful to surround myself with other student parents who were in a similar situation. Pick me up off the shelf and I'll talk about:

my experience of parenting throughout a PhD
my time as a HIVE Scholar
the support I have accessed at Sussex
how I managed the competing demands of family and PhD life
I'd also be happy to talk about my research interests - migration, citizenship, and identity negotiation in transnational contexts.

Curious readers can come and find me in the Library's new family room."

'Part-time PhD researchers do it better'

by Natalie Edelman, doctoral researcher, Brighton and Sussex Medical School

"Pick me off the shelf to find out about my experiences of studying part-time while working and raising children. I can tell you how I've compartmentalised these tasks by setting boundaries with my supervisors, my line manager and with myself, and maintaining a clear identity for each role. I can also share the tricks I've used to manage the difficulties of having to break off from study 'mid-flow' and to ensure that I make the most of my time and get back into the zone as quickly as possible. It would also be great to hear about other people's experiences and the challenges they've encountered along the way."

You can also come along and talk to Natalie about her research interests, which include the interface between sexual and mental health, community delivery of sexual health interventions, problematic drug use, public involvement in research, researching disenfranchised populations and evaluation of complex interventions.

'Presenting internationally- When, why and how?'

by Gunjan Wadhwa, doctoral researcher, Sussex Centre for International Education

"Presenting at international conference(s) and applying for funding for the same can be a daunting task, especially if you are a self-funded international student. This book will provide you with information on:

why it is important to present at international conferences
at which stage of your doctoral research you should consider presenting
where/how to find these conferences, and apply for funding

Along with the logistics, I will talk about the specifics, drawing from personal experience of presenting at an international conference on comparative education in India. I will expand on the preparation undertaken to present an academic paper, drawing on (specific aspects of) PhD research and inviting critical feedback, and how to incorporate this feedback into research. I will also talk about advocacy and networking at conferences, the need to follow-up with contacts, and on the outcomes after the conference."

You can also come along and talk to Gunjan about her research interests, which include education, gender, identity, citizenship, conflict, and power.

'"Taking the plunge" with Public Engagement'

by Jo Cutler, doctoral researcher, School of Psychology

"Curious about engaging people outside the university about your research but not sure how to do it? Borrow my book to hear about my experiences of talking about my research to the wider world. I spoke to the public and charities about my work on the psychology of giving; I've tried appearing on TV, on the radio, organising my own public engagement event, speaking at non-academic conferences and writing for various public platforms. You can ask me about the good and the bad of any of these experiences and what I've gained from them."

You can also come along and talk to Jo about her research interests, which include Altruism, Charitable giving, Prosocial behaviour, Empathy, Neuroimaging, Decision making, and Psychopharmacology.

'Taking the Long Way Round: Getting it done no matter what.'

by Abigail Rieley, Doctoral Researcher, School of History, Art History, and Philosophy

"If you want tips on writing a long form project, encouragement to take the plunge with public engagement, or advice on juggling the demands of doctoral study and a job, then Abigail is the book for you.

A journalist for twenty years before she left to study history, Abigail had already written two books before she started her PhD. They might be decidedly non-academic true crime books but the experience of writing tens of thousands of words to a (very) tight deadline can be useful when it comes to writing that thesis. As part of a varied career Abigail has also worked in the family history industry where public engagement has always been integral.

Whether it's talking to an expert audience of experienced family historians, helping members of the public research their family tree or watching your audience disappear because they want to see that guy from the Antiques Roadshow instead, genealogy is a great training ground for academic outreach. As an unfunded student, Abigail has been studying part-time and working full-time to pay her way. She can offer tips and advice on how to juggle competing demands. This book is a mixture of anecdotes and practical advice that will be of use to any researcher daunted by the challenges ahead."

You can also come along and talk to Abigail about her research interests, which include Irish legal history, 19th-century journalism, the development of journalism as a profession, Dublin in the 19th century, and Irish journalism.

'What if I fail? What to do when it all goes wrong on fieldwork'

by George Byrne, Doctoral Researcher, Global Studies

"Nobody really talks about how or why their research failed, or what you are supposed to do when you can see that the fieldwork you are in the middle of might be doomed. Those who decide to leave their research uncompleted rarely write up their experiences, and so the lessons that can be learnt about what not to do during your research, and how to avoid a similar outcome, are forever lost in the private notebooks of the 'failed' researcher (Wolcott, 2005, p. 214).

I am definitely not the first person to spend six months of their fieldwork seriously doubting the entire process, and wondering if their is anything that can be salvaged from the wasted time. But some how, I figured it out, and now I am at the very final stages of writing up, trying to figure out how I am going to cut my thesis down. The main thing I learned is that this is a common experience, and that the times when it feels like nothing is happening can become the source of the most valuable and interesting data".
Research Info Hub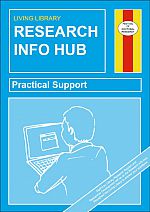 Staff from Library Research Support and Researcher Development will be on theResearch Info Hub during this event to help with any queries you may
have. We can help with things like:
Identifying online resources for your subject
Effective searching for relevant results
Citation and tools for reference management
Finding useful archival and external collections
Keeping up to date with research
Accessing the Research Development Programme
Support for your professional development
Taking part in Thesis Boot Camp
Funding for conferences, researcher intiatives and public engagement activities