What's Happening in the Hive?
Meet the new Research Hive Scholars
The Research Hive is a dedicated space for doctoral researchers at Sussex. Located on the top floor of the library, the Hive features plenty of desk space, wide screen desktop computers, and two private rooms that you can book for meetings or group work.
More than just another campus workspace, it is a place where you can interact with researchers at all stages of their PhDs, and from all schools and departments on campus! To help support the space and facilitate these interactions, three doctoral researchers are appointed each academic year on a bursary supported by SAGE Publications to serve as Hive Scholars.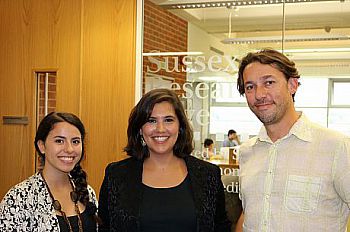 Marianela Barrios Aquino obtained a BA in Sociology at the University of Salamanca (Spain). Marianela started her postgraduate education at the Institute of Social Sciences of the University of Lisbon, during that time she was also a Visiting Scholar at the Institute for the Study of International Migration of the Georgetown University. Currently she is a PhD candidate at the Sussex Centre for Migration Research of the University of Sussex. Her research interests include issues regarding the experience of migration and citizenship, as well as issues of identity negotiation in transnational contexts.
Tom Ottway is one of the three new SAGE Sussex Research Hive Scholars. He is doing PhD part-time in the School of Media, Film & Music researching the notion of 'home' (specifically Brighton) through various media and senses, especially sound. This encompasses sonic art, sound studies, music, geography, urban studies and much more, so he is aware of the challenges of interdisciplinary research. His PhD is in Creative and Critical Practice, which means he is doing both a theoretical and also a significant practical element. He is interested in using technology to trigger sound/audio, and is considering writing a video game to locate and explore oral testimony/history in specific spaces.
Marta Schoch Marta is starting her second year as a full-time PhD candidate in Economics. Her research is on political economy and in particular, she is currently working on wealth inequality and political preferences in the UK. She is Italian and Spanish and she arrived to the UK after completing her MA in Economics in Italy last year. She completed her BA in International Relations at the University of Bologna and spent 6 months in Germany as an Erasmus student. Additionally, she worked in the International Relations office at the University of Bologna.
Sussex Research Hive Welcome Event - PhD Toolkit: Everything your wanted to know about doing a PhD but were afraid to ask
Wednesday 5th October 17.00 in the Research Hive
The new Research Hive Scholars are planning the activities and projects that will take place during this academic year at the Research Hive and that will hopefully engage a larger and larger audience of PhD students.
To kick off this series of events and collaborations, they warmly welcome you to the Sussex Research Hive welcome event "PhD Toolkit: everything you wanted to know about doing a PhD but were afraid to ask" taking place on the 5th October at 5pm at the Research Hive (top-floor of the main library). Feel free to contact them using the research hive email or through the Sussex Research Hive blog for any further info and feedback you might have.
For more information about this and other Hive events, you can follow their blog, Twitter feed, and Facebook page!